Fairford Mattresses Details
Our Fairford Ortho Pocket 1000 mattress is perfect for those who want more support through the night. It boasts a firm surface to help with orthopaedic backcare, and is completely hypo-allergenic for a better sleep. We've designed this mattress with 1000 pocket springs at king size to offer individual support with no roll-together in the night. The springs are encased in foam to offer edge-to-edge support. Finishing touches come from the luxurious hand-tufted damask finish, perfect for your bedroom. Don't forget to browse our hardwood double bed frames to match!
Our mattresses are fully compliant with UK Flammability Standards BS7177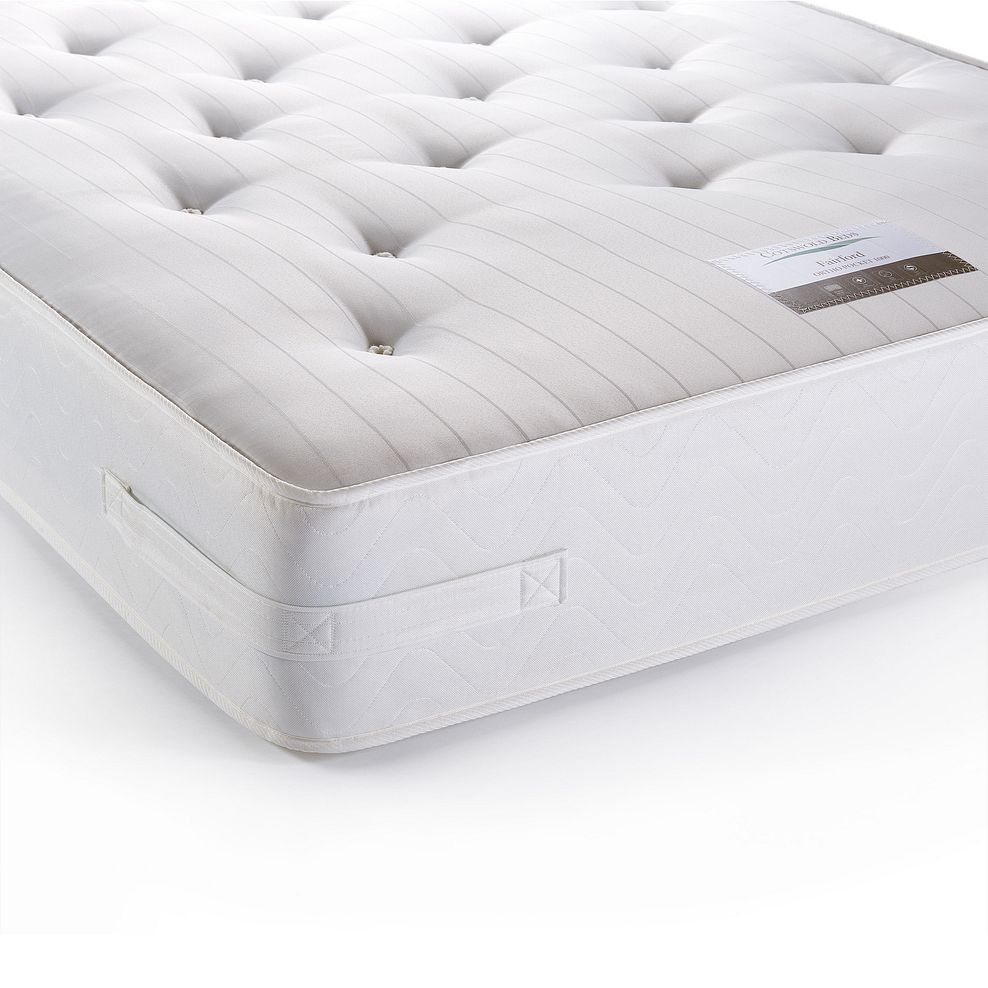 Dimensions & Assembly
| | | |
| --- | --- | --- |
| Dimension | CM | Inches |
| Height | 28 | 11.02 |
| Width | 135 | 53.15 |
| Length | 190 | 74.8 |
| | |
| --- | --- |
| Product Code | MAT-FAIR-ORT1000-DOUBLE |
| Product Title | Fairford Ortho Pocket 1000 Double Mattress |
| Packaged dimensions | H145 x W50 x D50cm (allow up to 5cm in variation) |
| Weight | 28kg |
| Number of parts | 1 |
Will It Fit?
Choosing the right piece of furniture for your home is a big decision. Not only does it need to look good and do the job it was made to do, but it also needs to fit.
To fit with your interior style, to fit with your home needs, and most importantly, to fit with the dimensions of your room. If the piece of furniture is near a doorway, which way does the door open? Is the item going to be restricting the route in and out of the room? Is there a radiator on the wall, or a windowsill jutting out that you need to factor in when measuring the item's height?
Check what you can fit comfortably within your room by looking at the furniture measurements. You can find them in the Dimensions & Assembly section. Note them down and get busy with your tape measure.
The final important measurement to mention, is to ensure your new piece of furniture can fit through your front door when it gets delivered! Most items arrive assembled and boxed. The packaged item dimensions can also be found in the Packaging & Assembly section. Download our Will It Fit PDF, and follow our guide to a smooth furniture delivery.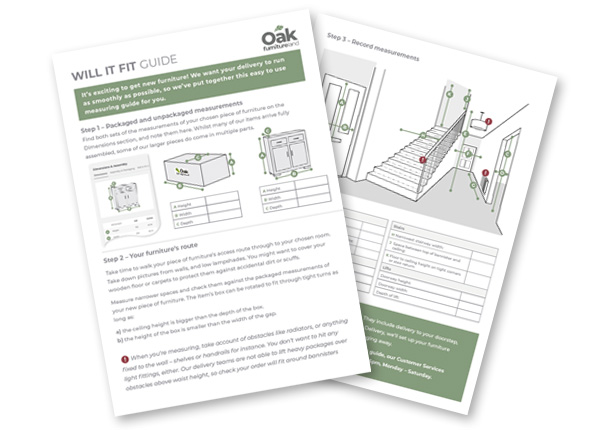 Reviews
4.6 stars out of 27 reviews
Avg.
Looks lovely and is comfortable
Philip - 01 August 2023
I was happy with the first one I bought so bought another one. Both were delivered on time, with adequate notice and ahead of date originally scheduled. Thank you
Sally Grant - 15 January 2023
The bed is solid and looks beautiful. Amazing value for money for lovely wood, especially as there was a discount. The only hiccup was the mix up in communication about the delivery. I changed the bedside cabinet order. The cabinet couldn't be delivered until januuary which was fine . The full delivery was changed instead of just the cabinet. I should have got the bed before Christmas and I didnt get it until January with cabinet.
eileen west - 15 January 2023
Good quality, comfortable and the fact that it has a handle on each corner, makes it easy to flip & turn, unlike many others we looked at, a WINNER!
Alan Assheton - 23 December 2022
My back is very grateful. Very firm and comfy.
Pol O'Slatraigh - 12 December 2022
Great mattress very comfortable
Geoff Randle - 27 November 2022
Well pleased , didn't receive wax or mattress protector.
andrew billige - 03 September 2022
Fantastic Mattress firm very good quality very happy.
Eric - 08 July 2022
Nice firm mattress. Comfortable to sleep on. Really good value for money.
Sandeep Kaur - 27 June 2022
I have not slept well for a long time, I do now.
Mick Blower - 02 May 2022
Well made and very comfortable.
Alan - 19 April 2022
Very comfortable
mary sharp - 26 March 2022
Seems a comfy mattress. It's for the spare room so haven't tried it yet.
Linda Spencer - 22 March 2022
Great support for spinal arthritis
Dawn Joyce - 01 August 2021
The polythene wrapper on the mattress was filthy The mattress was marked where polythene had been ripped
Mr James Henderson - 09 July 2021

Comfortable
Philip Higgs - 24 June 2021
Happy with the mattress but unhappy with the delivery and communication .
Linda Milton - 05 June 2021
Excellent value for money. So comfortable.
Dale Clode - 21 April 2021
Very firm mattress and thick .
Tina Wood - 17 January 2021
A comfortable well made mattress
Kerry CROUTER - 01 January 2021
Lovely thick mattress. Very comfortable.
Mr Carl Teare - 08 November 2020
A little firmer than my old worn out mattress so taking some getting used to
S Sparkes - 02 November 2020
Excellent product
Siobhan Godfrey - 06 September 2020
Very firm mattress with good depth. Perfect for my partner a touch too firm for me so I added a thin foam topper.
Ew - 24 July 2020
So comfy
Paula - 04 July 2020
This is a very firm mattress. Firmer than in the shop but great quality. I have gotten used to it now and enjoy sleeping on it but I do have a memory foam topper on too.
Kate Weaver - 16 March 2020
Read more reviews