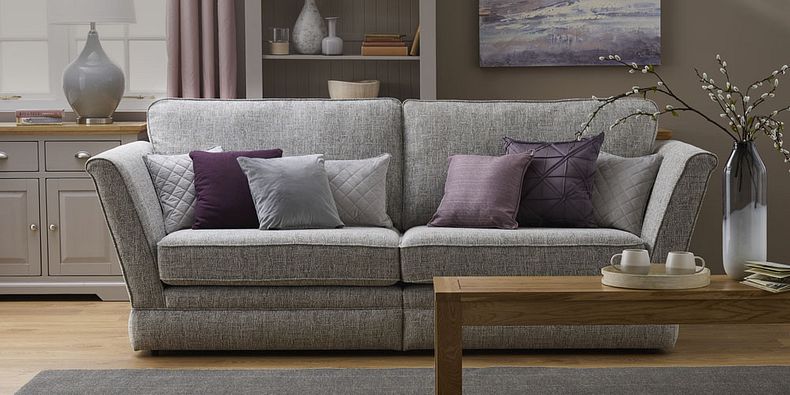 Grey 3-seater sofas
Available From £645
All kinds of upholstery

Lifetime frame guarantee

Scatters cushions come free

Classic and modern designs

All kinds of upholstery

Lifetime frame guarantee

Scatters cushions come free

Classic and modern designs
On average, over 1,000 meals are eaten on a sofa during its stay in your home, and thousands of meetings every day are held across the world from them. A lifetime of memories can also be found by digging around under the cushions while you hunt for the TV remote! As such, our grey 3-seater sofas are built to accommodate you, your family, and your loved ones.
How big are our grey 3-seater sofas?
We find that these size sofas are the perfect choice for those whose households are expanding or for those seeking to provide superior seating to visitors. They are around 200cm wide and 80cm tall but, depending on the style you're interested in, this can vary. Make sure you check the dimensions before you order to be sure it will fit your room… and through the house to get there.
The added size of 3-seater sofas compared to 2-seaters or armchairs allows you to fully appreciate the comfort built into each piece of furniture..
How our grey 3-seater sofas can be used in your home
Our grey 3-seater sofas look best in the front room or living room and, even for smaller rooms, you can browse our range of 3-seater corner sofas to find something that will fit every space.
Grey is a versatile colour with shades that complement both modern, rustic, and minimalist household colour schemes. We recommend pairing your grey 3-seater sofa with a warm lamp to bring out the cosiness of your new furniture.
The perfect size to enjoy alone, with a partner, and with your family
The joy of sofas is their versatility in the home. Do you look forward to curling up on a luxurious velvet 3-seater sofa under a cosy blanket and enjoying a good book? Do you dream of snuggling up to your loved one on a sumptuous recliner sofa while watching the latest show on Netflix? Or do you want a grey sofa bed so your family and friends can stay over in comfort?
Whatever you want from your 3-seater sofa, ours are the perfect choice for you. They are constructed for elegance and indulgence and designed with you in mind.
Browse our range of grey 3-seater sofas today and discover the perfect match for your home.