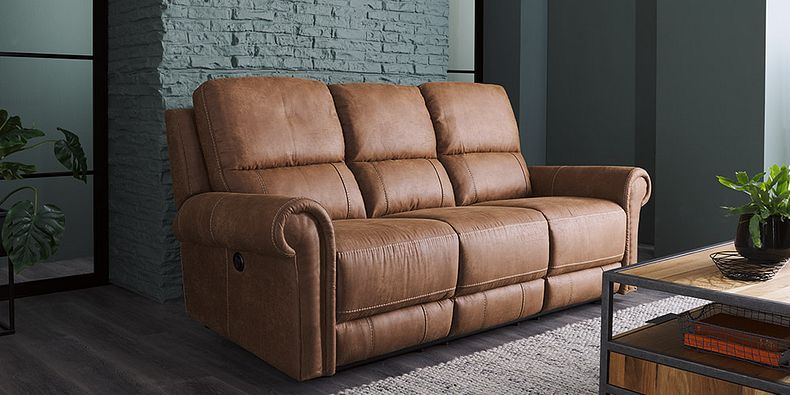 Brown 3-Seater Sofas
Available From £645
All kinds of upholstery

Lifetime frame guarantee

Scatters cushions come free

Classic and modern designs

All kinds of upholstery

Lifetime frame guarantee

Scatters cushions come free

Classic and modern designs
Create the perfect cosy atmosphere
Add more than a touch of comfort to your home with our selection of brown 3-seater sofas. Built with quality hardwood and carefully designed with the best fabrics and materials, these brown sofas help create a warm and homely atmosphere that is ideal for relaxation after a long day at work or school.
Their deep-seated cushions and supportive backs are perfect for recharging your batteries as you catch up on your favourite show or chill out while you chat with friends online. Our brown sofas work well with most colour schemes, so you're bound to find a sofa style that matches your home decor.
Choosing the right size sofa
Most of us like to entertain and host friends and family, which is why we stock various 3-seater sofas in brown to ensure you have enough seating space for you and your guests. Our 3-seater sofas generally offer enough seating space for three adults, but there are some styles in this collection that offer more generous sizing. Our 3-seater sofas will add a classic and sophisticated look to your living room which is sure to impress your visitors.
A beautiful collection
We know everyone has their own taste, style and preference when it comes to living room furniture. This is why we carry brown 3-seaters in various shades, from rich, cocoa bean hues to hazelnut colours that create a soothing mood. Our versatile collection of brown sofas are ideal for curling up with family and relaxing and unwinding. If you're concerned about lighting in your living area, a light brown 3-seater is perfect for brightening up your space and creating an airy feel. For a more traditional look, a dark brown 3-seater sofa is more suitable.
Brown fabric 3-seater sofa
Fabric sofas are an excellent choice for families as they're easy to clean and durable. Our brown 3-seater sofas are made with cosy, high-quality fabrics that are long-lasting and can meet the demands of everyday use, including napping, eating, relaxation and lounging. Add scatter cushions in green or orange to create contrast and your sofa will become the centrepiece of your room. Or maybe get a brown 3-seater recliner sofa that everyone will undoubtedly love as they can put their feet up for movie night.
Brown leather 3-seater sofas
For those who desire the ultimate sophisticated look and feel, our 3-seater brown leather sofas incorporate a host of design flourishes including studded detailing and deep buttoned backs. Complete the look with a leather footstool or leather armchair. A brown 3-seater leather recliner is a great addition to your living area if you want complete comfort.
Browse the range today to find your ideal brown 3-seater sofa.