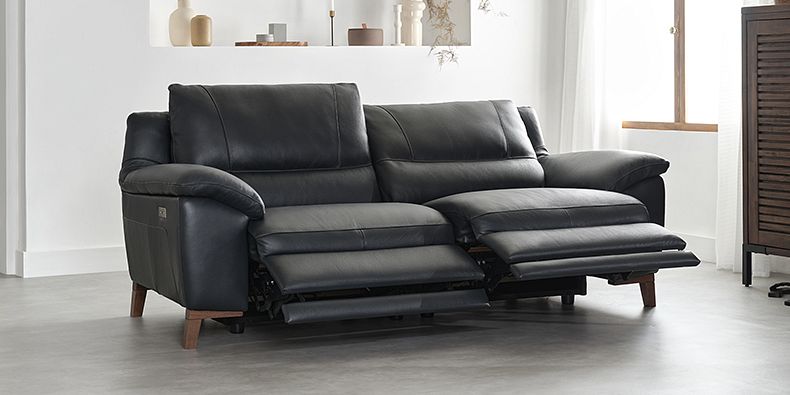 Black 3-Seater Sofas
Available From £645
All kinds of upholstery

Lifetime frame guarantee

Scatters cushions come free

Classic and modern designs

All kinds of upholstery

Lifetime frame guarantee

Scatters cushions come free

Classic and modern designs
A chance to get comfy
A growing family or a new home with a larger living space means you need additional seating areas to accommodate everyone, including guests and friends. Fortunately, we stock an extensive range of black 3-seater sofas to fill up any empty space and to provide you with extra seating areas for meals and relaxation.
Constructed with stylish fabric and quality hardwood, our black sofas that seat three give you and your loved ones room to get comfy. Made with a foam fibre wrap for a cosy seat, you can lounge on our black sofas with your head buried in a book or while watching TV for hours on end.
A stunning collection of black sofas
Making a bold statement in your living area has never been easier, thanks to our selection of black 3-seater sofas. Available in a range of hues, from dark grey slate and graphite to classic black and charcoal, our black sofas are sure to stand out and be the centrepiece in any room.
Pair them with bright-coloured throw pillows or cushions to create a sharp contrast that makes your room pop. You might prefer a sleek and sophisticated look, which we also love, and that's why we have black sofas in leather. Our black leather 3-seater sofas are incredibly hardwearing and easy to clean.
Black 3-seater fabric sofa
You simply can't go wrong with a black 3-seater, regardless of the style and finish of your home. Just pick the right black 3-seater fabric sofa, available in an array of textures and finishes, including crushed velvet, versatile chenille and linen, depending on your daily needs and home decor. Fabric sofas are ideal for family living and snuggling up, and you can dress them with throws and blankets for movie night. If you prefer the look and feel of a leather recliner sofa, we have a number of sleek and stylish black 3-seater options that are designed for ultimate ease and comfort.
Prioritise comfort with our black 3-seater recliner sofa
We all spend around 16 hours a week seated on a sofa napping, eating, reading, relaxing or watching, increasing the need to get a sofa that provides full back support and maximum comfort. We stock an array of comfortable black sofas that seat three, including our black 3-seater recliner sofa that's built with deep-seated cushions and a reclining back for lower back support.
These can recline all the way to bed mode for a lazy afternoon nap after a heavy meal. Take it a notch higher by acquiring a black 3-seater sofa bed, ensuring your guests and friends have somewhere to sleep when they visit.
Find the perfect black 3-seater sofa for your home in our range today.