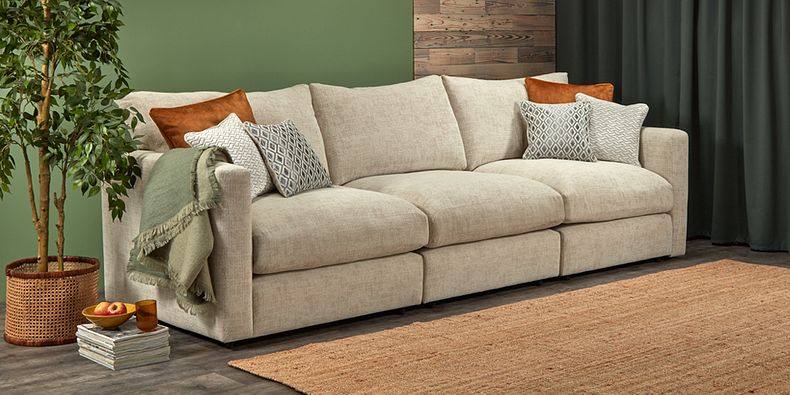 Beige 3-Seater Sofas
Available From £645
All kinds of upholstery

Lifetime frame guarantee

Scatters cushions come free

Classic and modern designs

All kinds of upholstery

Lifetime frame guarantee

Scatters cushions come free

Classic and modern designs
We stock a wide range of 3-seater sofas, including 3-seater sofas in beige and neutral shades. If you're looking for a modern, attractive 3-seater sofa to suit your living room or conservatory, a beige sofa combines classic styling with contemporary neutrality. Whether you're looking for a sofa to entertain guests or stretch out watching movies, we can help you find the perfect sofa for your living space.
Beautiful sofas to fit any space
No matter how big your space is, you can find the ideal sofa to match it at Oak Furnitureland. We stock a huge range of beige 3-seater sofas, including beige 3-seater corner sofas that can maximise space even in a compact living room.
A 3-seater sofa is ideal for families or couples wanting a little extra room to spread out and relax while watching TV, gaming, or just chatting with friends. Whether you're looking for a sofa that fits two with space to spread out or a comfortable sofa for three or more, we offer 3-seater sofas in a wide range of sizes and dimensions.
Comfortable, modern 3-seater sofas
Sometimes, it can feel like a struggle to find contemporary sofas that are both stylish and comfortable. We make sofas with both style and comfort in mind in a wide range of fabrics so that you can find a sofa no matter what your preference is. Whether you opt for a 3-seater fabric sofa or a 3-seater velvet sofa, you can rest assured that all of our sofas have been tried and tested by us for comfort and durability.
The ultimate in sofa relaxation
Choosing the right sofa is incredibly important. We spend hours of every day on the sofa relaxing, eating, and even sleeping. The quality of the sofa you use on a daily basis defines the quality of your free time, which will have knock-on effects on your stress levels and overall happiness.
It's important to take the time to choose a sofa that's comfortable, spacious, and most of all, just the right fit for you. Why not try out a beige 3-seater recliner sofa to take your evenings to the next level? Or offer your guests the ultimate home from home with a beige 3-seater recliner sofa bed.
Shop stunning 3-seater sofas in all styles
We understand that everyone's tastes are different, which is why we strive to offer choice across our entire collections. Shop our range of beige 3-seater sofas today and find a classic, comfortable sofa that's the perfect fit for your home.