Inspiration Station - Bedroom
White bedroom furniture ideas for a soothing sleep space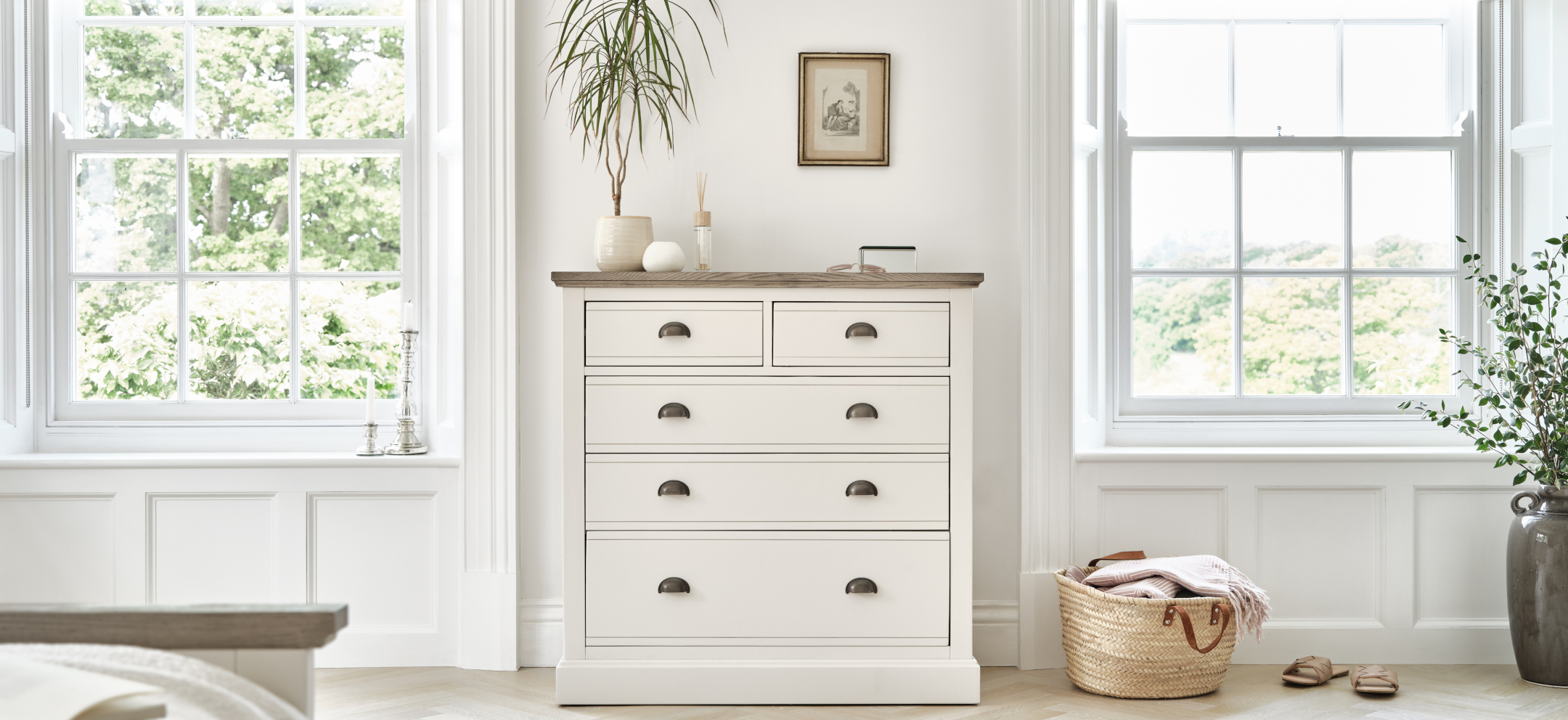 Incorporating white into your bedroom aesthetic is a great way to freshen up your decor and can make a space feel bright, airy and open. From painted furniture, such as beds and wardrobes, to stylish accessories, there are countless ways to introduce a peaceful white colour palette in your bedroom.
Whether you're looking to create an all-white Scandi bedroom or a coastal-inspired space, use white furniture to create a soothing sleep sanctuary you'll look forward to escaping to. Read on for expert tips on how to make the most of white furniture and decorative touches.
---
Paint the walls white for a pared-back look
Brompton king-size bed | Brompton bedside table | Brompton 2-drawer bedside table | Brompton chest of drawers
White walls create a clean and serene feeling and are guaranteed to make any bedroom look good – no matter what shape or size. Less is more when adopting this kind of theme; keep clutter to a minimum and dot a few accenting pieces around the room.
Create space with a white mirror
Brompton dressing table | Brompton stool | Brompton mirror
A white mirror in a white bedroom is the perfect way to make the room feel bigger. Not only does the mirror reflect light but the white frame will help illuminate the space as well. To maximise the effect, place it near the window to reflect natural light and scenery from outside.
Contrast with colour
Hove double bed | Hove tallboy | Hove chest of drawers
White furniture gives you the freedom to be adventurous with your accessories and wall colour. Warm taupe and mushroom tones work well with fresh blues, while accents of muted yellow in your bedding and cushions add a dose of sunshine to the space.
Create instant brightness
Because it reflects light so well, incorporating white painted furniture in your bedroom will instantly make your space seem more open. It's also a great choice if you're looking to invest in classic bedroom furniture that won't date, as white pairs well with virtually any colour, so you can easily switch up the surrounding decor when you fancy a change.
Handy storage solutions
Hove blanket box | Hove chest of drawers | Hove double bed
There's something particularly calming about a clean, white bedroom. Tame clutter and keep your bedroom tidy by using versatile storage such as a white blanket box at the end of your bed. It will provide the perfect place for spare blankets, cushions or nightwear.
By opting for painted white furniture and playing around with the accessories, you can create a clean and bright bedroom that's both cosy and stylish. Check out the Oak Furnitureland blog for endless bedroom inspiration.
---
More Inspiration
---
Your #OakFurnitureLand Style