Inspiration Station - Guides
Ultimate guide to modular sofas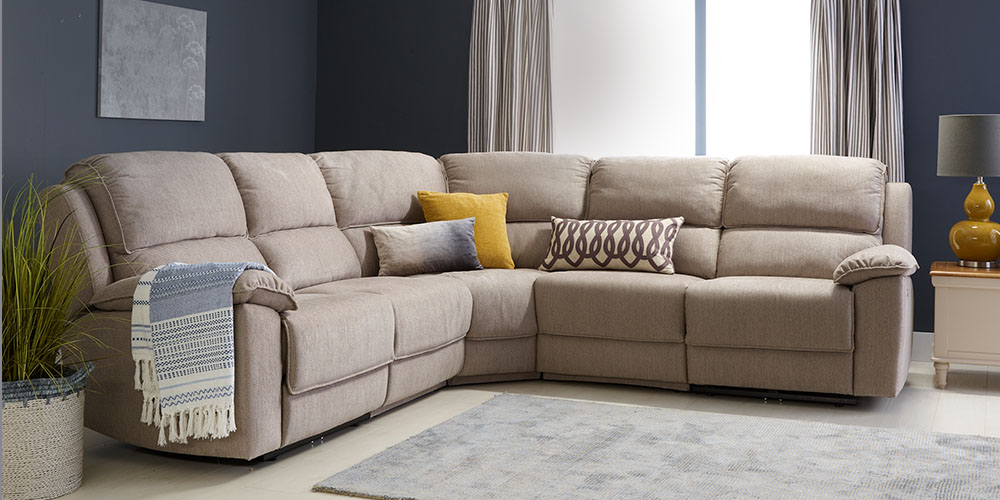 In this handy guide, we'll explain the ins and outs of modular sofas, including tips and advice on things to consider when choosing this popular style of soft seating. Read on to find out more.
---
What is a modular sofa?
First things first, what exactly is a modular sofa? You might have heard of the term but aren't quite sure what sets it apart from other sofa styles. Well, let's clear things up.
A modular sofa is made up of individual parts that can be configured together in a variety of ways to create different sofa set-ups. The modules arrive in separate pieces, making for stress-free delivery, and fit together easily in your chosen shape, whether it's a 2-seater sofa, a 3-seater corner style, a 4-seater chaise, the list goes on!
How do modular sofas fit together?
All our modular sofas fit together with a simple clip mechanism that connects the individual pieces to create the sofa of your choice.
These easy-to-use metal clips are on the underside of each section and connect with male/female clasps that lock the pieces securely together. Fastening the clasps requires one module to be lifted slightly, so this is best carried out by two people to ensure that you connect them safely, securely, and without injury.
Once connected, modular sofas will stay in your desired configuration and the pieces won't drift apart or move around when in use.
How do you separate a modular sofa?
To take apart or reconfigure your modular sofa, gently lift the pieces up, again ensuring you do this with two people to avoid injury, and the male/female clasps will come apart. This means you can adapt or add to your modular sofa layout as and when necessary.
What is the difference between a sectional and a modular sofa?
Sectional and modular sofas both offer the same function and are simply different words to describe sofas that come in sections/modules. Modular is more widely used in the UK, whereas sectional is more common in North America.
What are the different sizes of modular sofas?
Our modular sofas come in a wide range of different sizes that start from 2-seaters and go up to 5-seater corners. Choose from designs with arms or go for armless styles that really make the most of the available space.
The 2- and 3-seaters, both delivered in two parts in spite of the different sizes, are a great choice for more compact rooms and offer all the comfort and benefits of modular sofas, just on a smaller scale.
The larger styles are a popular option if you are looking to fill a large room and really utilise the space well. These generously proportioned sofas bring luxury lounging to the forefront of home life and ensure everyone has space to gather round for movie marathons, games nights, sofas snuggles and afternoon naps.
Modular sofas for every home
Whether your taste is modern or classic, we have the perfect modular sofa for you.
In terms of overall aesthetic, all our modular sofas tend to sit close to the ground, with low feet or discreet glides on the reclining styles.
We offer modular seating in a choice of upholstery options. Our leather modular sofas are made from genuine leather all over and are a durable choice that only gets better with age. From luxe to traditional designs, and colourways ranging from chocolate brown to light blue, you can create the look you want with our leather sectional sofas.
Fabric modular sofas are a tactile choice and we have a wide range of colours that will instantly transform your decor depending on the look you want to achieve. Our cream and beige modular sofas bring a taste of laid-back California living to your space, while dark grey dials up the loft aesthetic in your home.
How to arrange a sectional sofa in a small room?
To maximise seating in a small room, choose a 3-seater modular sofa. Alternatively, a chaise-style sofa is a popular choice for more compact rooms, as less space is taken up by arms
What are the benefits of modular sofas?
Where do we start? There are so many benefits to owning a modular sofa. This type of customisable seating is a great choice that will adapt with your life. As you are able to easily modify your modular sofa, we like to think that these are sofas that grow with you. From your first 2-seater in a rental, to a 3-seater chaise for your first home, and on to a spacious 5-seater corner for family life, our sofas are made to last.
In fact, we're so confident in the longevity of our sofas that we offer a lifetime frame guarantee and will endeavour to repair any damage, aside from general wear and tear or misuse, should any issues arise.
Are modular sofas comfortable?
When it comes to ticking the comfort box, modular sofas certainly fit the bill. Sectional sofas are generally characterised by deep seats that offer premium relaxation. Some styles have low, wide arms that bring additional comfort, while others introduce a cocooning feel with higher sides that are made for lounging against.
Our corner or chaise styles enable you to put your feet up for leisurely lounging, while we also have a range of modular electric recliners with the added benefit of in-built footrests and reclining at the touch of a button.
Are modular sofas expensive?
The price of our modular sofas varies depending on the configuration you go for. While we know that sofas are often an investment purchase, you really do get a lot for your money when it comes to modular sofas, making these a great value option that will last for years to come.
Where to buy modular sofas?
Browse our complete selection of modular sofas to find the style that's perfect for your home.
---
More Inspiration
---
Your #OakFurnitureLand Style