Long Narrow Living Room Ideas
Inspiration Station - Living Room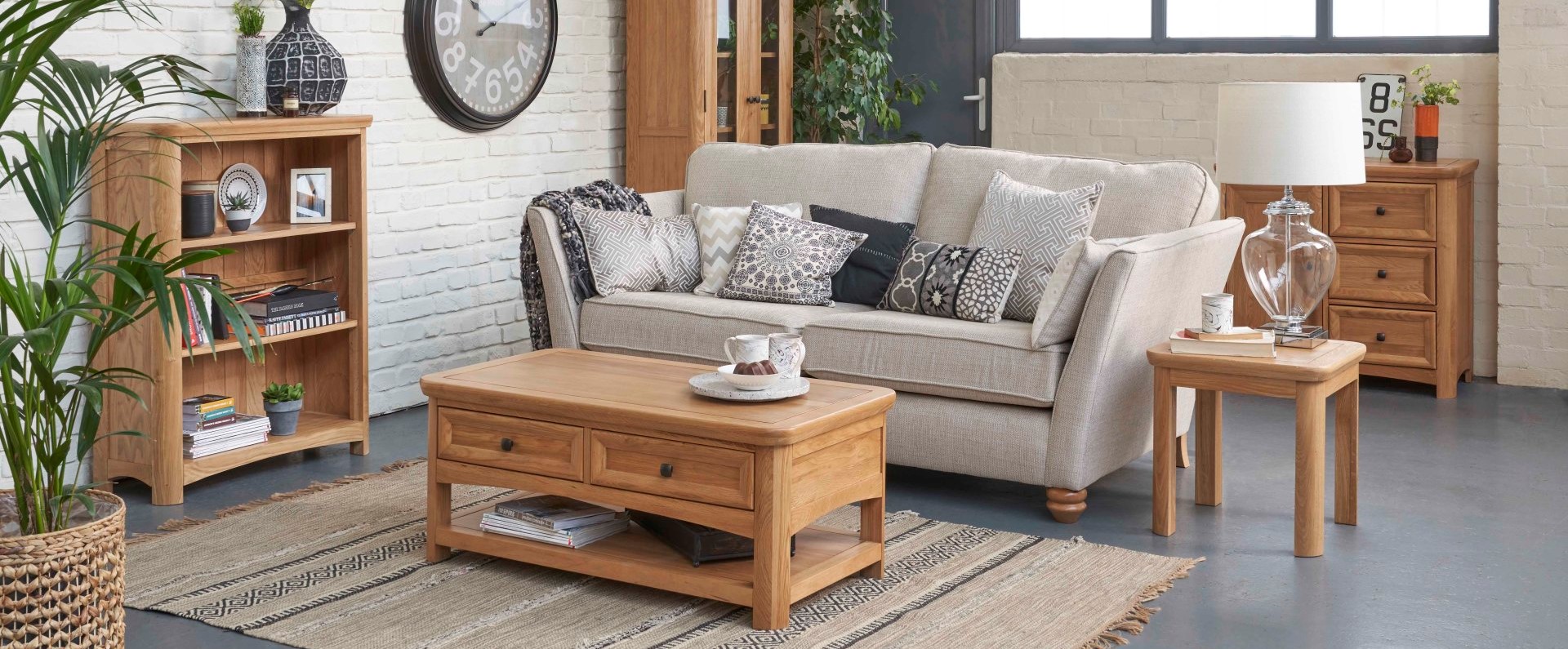 Long Narrow Living Room Ideas
Decorating a long narrow living room can be a challenge. Yet with some simple tricks, you can transform the space into the perfect, relaxing living room for your home.
When it comes to long, narrow living room layout and design ideas, you actually have more options than you think! We run down our top tips for making the most of a long living room:
What can I do with a long narrow living room?
Open plan long narrow living room ideas
How do you zone a living room?
How do you make a narrow living room look wider?
What can I do with a long narrow living room?
When it comes to designing a long narrow living room, it's all about making the most of the space that you have available.
Maximise the vertical space on offer. Use tall units, and focus on accessories that elongate the height of the space, such as wall art and floor lamps.
Creating a pathway through the space can be a great way to lay out your furniture. Whether a pseudo-corridor with a straight pathway, or a sweeping pathway through furniture, this can help to build a real feel to the room.
Make the most of the room's length and zone up the space. Create different pockets of activity, whether that's a home office space, a dining area, or a play area for the kids.
If you've got a really large space, why not combine it into another room? Make it a living-dining room, or even opt for a kitchen-dining-living room combo!
Open plan long narrow living room ideas
If you like the open plan living style, why not transform your long, narrow living room into a multifunctional space? Great for entertaining, bringing the family together, and creating a great flow from your front to your back door, open plan living carries many benefits for the home.
How do you decorate a long narrow living room dining room combo?
When designing an open plan living and dining space, you can either opt for a fully open plan, or 'broken' plan room. It depends on how you want to use the space! With broken plan living, use physical partitions such as shelving, storage, or furniture to separate the dining and living spaces.
If a fully open plan space is what you're looking for, you'll want to design both halves of the room to work cohesively. Keep both dining and living spaces open to each other, with no barriers.
Long narrow kitchen/ living room ideas
You can apply the same tactic when looking to combine a kitchen and living room. Separate the areas with a kitchen island as a partition - you could even add bar stools here to create a dining space too. Alternatively keep it open, with a sofa facing the kitchen counter tops for the ultimate sociable living space.
Whether you choose an open or broken plan space, it's important to zone the areas to differentiate them, yet keep a consistent colour palette or accent colours to create visual harmony across the room.
How do you zone a living room?
Use rugs
Rugs are a great way to differentiate living spaces in an open plan room. They allow you to change up the flooring without forking out for a new carpet. Use different textures to create various feels across the room - you might opt for a soft and cosy wool rug under your sofa seating area for example, whilst keeping the dining area hardwood floor.
Colour
Another simple way to demarcate areas is with colour. Opt for a dark and cosy statement wall in your living area and paint the dining space a complementary softer shade, for example. You can get creative and choose different, bolder colours to zone areas, just ensure that you keep a similar palette or at least an accent colour running through so that you don't create too much of a jarring contrast.

Embrace different lighting
We all know that lighting is a transformative interior design tool, and zoning a room is no exception to this. Illuminating a space in different ways can help to create different pockets of activity.

Pendant lighting over a dining table works beautifully for example, and creates a real statement zone if hanging low from the ceiling. In the same room, however, it's likely that you'd want to choose cosier lighting for a living space, with table and floor lamps. Meanwhile, task lighting is often the best option for a kitchen.

Use furniture as a partition
If you want to separate areas more visibly, a 'broken' plan option may work better for you. Use furniture in the middle of the room to create partitions between spaces. You could opt for a 'wall' of tall units such as display cabinets, dressers or bookcases, or something shorter such as a sideboard or console table.

If breaking up a living room and dining room, why not use a corner sofa? You can always place furniture back to back too. Try placing a sideboard at the back of a sofa for the ultimate use of space.
Open shelving
If solid furniture is too heavy a look for you, opt for pieces that you can see through such as open shelving. Fill with beautiful accessories to complete the look.

You could even use plants or a soft curtain to create a barrier, particularly if you're working with a small room with limited floor space for more furniture.
Where should you put your TV in a long narrow sitting room?
When it comes to the placement of your TV in a long narrow sitting room, it's no different from any other shaped room! You'll want to make sure that it's mounted or standing at eye level (around 4 ft/ 1.2m from the ground), to avoid straining your eyes or neck.
The exact placement of it will depend on what you want your focal point to be. If the TV is the centre of activity in your living room, you'll probably want it to be the first thing you see when you open the living room door. Pop it in the middle of the wall opposite the door, with your sofa centrally aligned to it.
If it's not the focus however, it's likely you'll want it tucked away somewhere, so that you can let other furniture take centre stage. You could always place it in the corner with a corner TV unit.
Narrow living room with focal piece
Not many long narrow living rooms are a simple rectangle. So when it comes to designing your space, you'll want to take any other structural elements into consideration. Do you have a chimney breast with a nice fireplace? What about the windows?
Narrow living rooms with fireplaces, whether at one end or the centre of the long wall, can be an interior design dream. A beautiful fireplace can become the focal point of all of your design choices - and form the basis of your living room layout. The same goes when it's in a long living room! No matter its placement, why not zone a living area around it? Simply place sofas either side of the fireplace with a coffee table at the centre for a cosy setup.
If you're lucky enough to have a beautiful bay window in your narrow living room, make the most of it with your furniture placement. Similarly to the fireplace, zone an area around it so that you can capitalise on the beautiful natural light and view outside.
How do you make a narrow living room look wider?
If you're dealing with a particularly narrow living room, it's likely that you'll want to create the illusion of more space. The best ways to make a small space look bigger are to:
Keep space between your furniture and walls. Drawing furniture in towards the middle of the room helps to make the space look wider - pressing them against the walls will emphasise the narrowness!
Use circular furniture to de-emphasise harsh horizontal lines. For example, opt for circular or round-edged coffee tables, side tables, dining tables in a multipurpose space, and accessories such as mirrors.
Reflect space with mirrors! It's an age-old tip, but it works! Using mirrors helps to create the illusion of depth, so that there appears to be more space than there really is.
Draw focus away from the size of the space by making a statement. Distract with a bold wall, piece of art, or interesting pattern - create your own focal point!
A great hack for making your living room seem bigger is to match your furniture colour to the walls. Create a cocoon effect with dark furniture and dark walls, or breathe an airy feel into your living room with lighter, neutral walls and painted furniture.
Use a patterned wallpaper, extended across all walls of the space. This tricks the eyes into thinking that it's a continuous wall, which in turn will give your room a more spacious feel!
If you're pushed for space in your narrow living room, you won't want lots of clunky furniture. Opt for multifunctional pieces that serve several purposes. Think storage footstools and coffee tables with drawers and shelves.
While you might want extra storage, ensure that your furniture choices aren't too cumbersome. Choose slim legged pieces to make your smaller space seem more spacious.
Don't over accessorise! Cluttering a space with lots of trinkets and decorations can make it feel smaller and more claustrophobic. Stick to your favourite pieces, within a coordinated scheme.
Ready to design the perfect space for your narrow living room? Head over to our living room furniture ranges to find some great picks for new styling.
---
More Inspiration
---
Your #OakFurnitureLand Style