How to create the best living room layout
Inspration Station - Living Room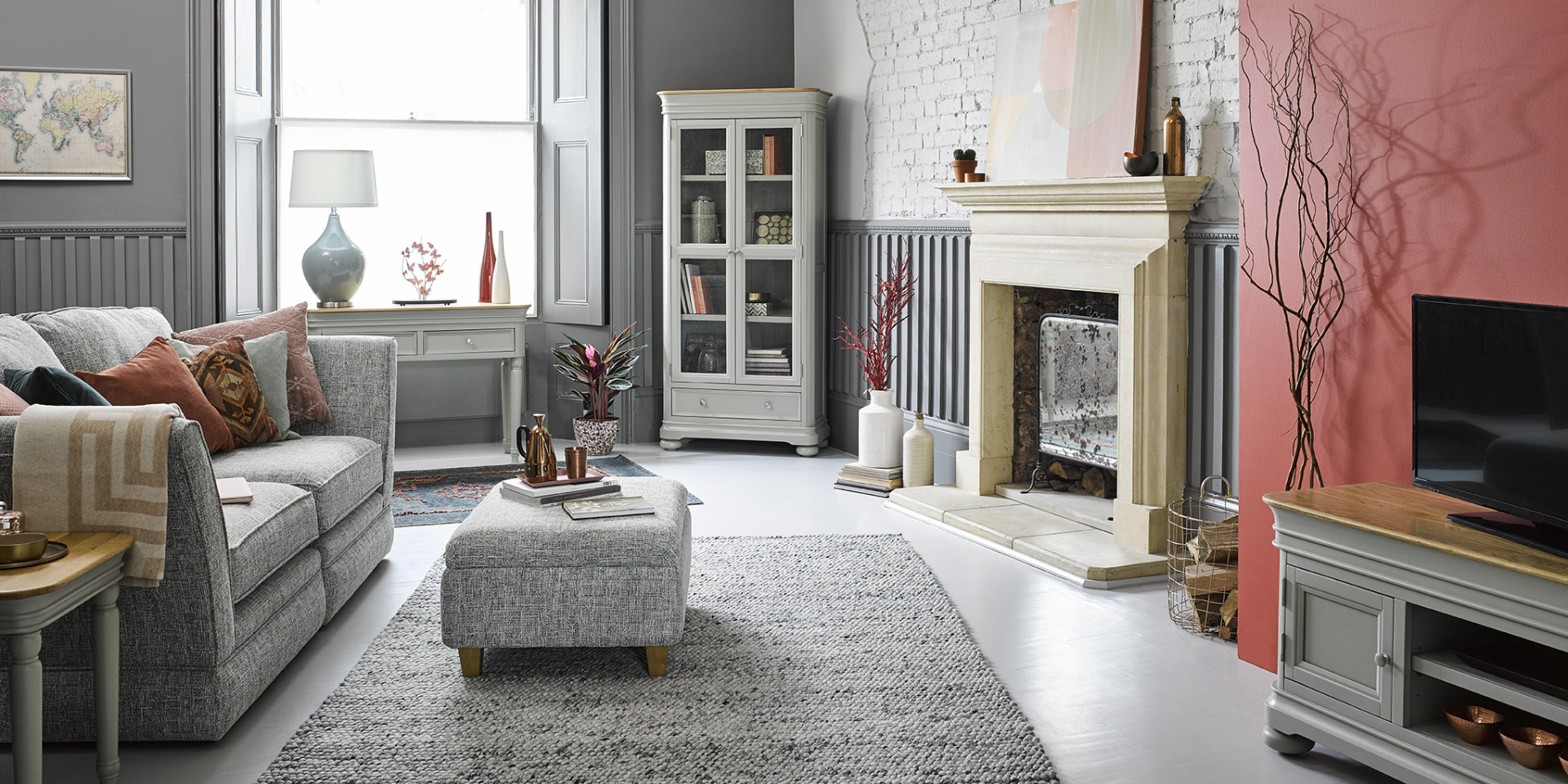 When it comes to designing your living room layout, it can be difficult to know where to start. Yet ultimately it comes down to the makeup of the space you're in, as well as your personal preferences. When planning your living room arrangements, consider:
Your existing furniture
What you need the space to be used for
The lighting available in the room
Any structural features such as alcoves or chimney breasts
Your personal styling. Do you want an open-plan, broken-plan, or a living room only space?
Read on for our top tips for creating the best living room layout for your home.
What is the best way to lay out a living room?
The best living room layout ideas for your home will always boil down to you and your space.
1. Work with the space available
First of all, when structuring your lounge layout you need to look at the space you have. It may restrict or create opportunities for your plans! If you're working with a long, narrow living room for example you may consider an open-plan living room dining room. Hate the open-plan feel? Zone these areas to create a 'broken' plan layout that keeps areas separate, whilst maximising the space. If you've got a smaller room you might want to keep it as a cosy, designated living room.
2. Consider the lighting
The next component you'll want to consider is the natural lighting available in your living room. This will have an impact on where you put certain pieces of furniture, particularly items like your TV - no one likes screen glare!
Lighting can also be a great way to zone your space if you're opting for open or broken-plan living. Think task lighting for a kitchen area, and floor and table lamps for a cosy sofa space.
3. Plan around your existing furniture
It's likely that if you're redesigning your living room layout, or even doing it for the first time, you already have pieces of furniture or at least have some in your shopping basket. You'll want to make sure you design your layout with these in mind.
Designing around a particular piece of furniture can actually be a great place to start, particularly if it's an awkward shape, or large for the space. Have a corner sofa that's pivotal to your design style? Use it as a room divider in an open plan space, or tuck it into a corner to create a cosy living room ambiance.
Not only the shape, but the style of a piece of furniture can dictate how you might arrange your space. Want to make a statement with a particular piece? Maybe an accent chair, or an interesting coffee table? Make this the centre of your design, the first thing people see when they walk through the door, and create your layout around it.
4. Arrange within your design style
Decor doesn't just come down to colours and textures, it's all about creating a feel for the space with arrangements too. And the way that you want your space to look trickles down to the way you arrange your space!
Like an ordered and pristine look? You might want to create symmetry by reflecting each side of the room with similar shapes and styles of furniture. Try sandwiching your chimney breast with a TV unit and sideboard from the same range.
If you're more about the eclectic look, balance by mixing and matching styles of furniture, such as painted and natural oak - just make sure to use a consistent colour theme to create visual harmony.
Styling your space to make it look bigger? Use the middle of the room! Drawing your furniture away from the walls will help to create the illusion of space.
5. What should the focal point of your living room be?
You might also want to think about what your focal point is. This can ultimately depend on what you use your living room for.
If you mainly use your living room to catch up on your favourite shows or to watch movies, it's likely that you'll want to have the TV as a focal point.
The best living room layout for entertaining, however, might be centred around a large corner sofa and nesting tables for drinks and nibbles.
If you're lucky enough to have a beautiful fireplace in your living room, you might want to create a fireplace focal point.
Particularly if you live in a period property, you may have a beautiful bay window that you'd like to showcase. Or maybe your living room faces out through bi-folding doors to your garden! Why not make this window the focal point, swinging your sofas round to face outside, so that you can admire your wonderful garden from the comfort of the indoors.
How do you set up a TV and couch in a living room?
Knowing where to put your TV in a living room can be a challenge. If you want it to be the focal point of your room, centre it squarely in front of your sofa. If you want other items in your living room to take centre stage, TVs can also work well slightly off-centre from your sofa. For example, mount it on the wall in an alcove beside the chimney breast if you want your fireplace to sing.
The rest is up to you! Place on opposite walls for a traditional look, or mix things up by putting your sofa in the middle of a larger room facing the TV - or even switch it around! Hang your TV from a tall piece of furniture in the middle of the room that's dividing up your space.
Where do you put your TV in an awkward living room?
If your living room is an odd shape, you'll want to arrange your TV and sofa in the most sensible, convenient way, whilst keeping your focal point in mind. As with any living room, don't place it in the corner of the room, or on top of a small piece of furniture as this can emphasise the awkwardness. Try mounting it on a wall or even hang it from the ceiling if floor space is tricky.
How do I mix and match my living room?
Two rooms in one
With hybrid spaces becoming ever more popular and necessary in our ever-changing world, it's likely that your living room will serve multiple purposes. Mix and match the space by creating an open plan room, or zoning it into different activity areas.
Create a living - dining room layout by separating the two zones. Partition the space with a corner sofa, backed with a sideboard, or use a shelving partition. Alternatively embrace the open plan style and let the space merge together! Your living room dining room combo layout ideas are endless.
If you've got a fully open plan space, don't shy away from a kitchen dining living room layout! Use the zoning techniques to separate the space, and help to soundproof areas with soft furnishings such as rugs and fabric furniture.
Mix and match furniture
Unless you're starting from scratch it's likely that you have a collection of furniture. This doesn't mean that they can't work together in your living room! The golden rule when it comes to mixing and matching furniture is to use colours to tie your pieces together. Not only this, capitalise on similar patterns and shapes, or accents throughout the space so that you can balance the different styles and textures of your pieces.
How do you arrange a living room with two entrances?
Many living rooms may be working with two different entry and exit points, often from the entrance to the home itself and the other into a dining room. When choosing the best layout for this type of room, you'll want to come back to the focal point of the room, the lighting and what other structural elements are at play here. And don't shy away from turning your back on one of the entrances. Your furniture doesn't have to be facing both!
How do you arrange furniture in an awkward living room?
Sometimes the room we're working with isn't the most convenient or practical in shape. But that doesn't mean you can't create an incredible living room furniture layout. No matter the structure of the room, the best furniture for your living room will depend on the space you have available.
The most important thing to do is measure up! When choosing your furniture, you'll want to make sure that you've accurately measured the space available, as well as the piece itself. And don't forget to check it will get into the room! Make sure you take your door and corridor dimensions too.
Use storage units cleverly to keep your awkward living room layout uncluttered and organised. You want to keep an odd shaped room looking sleek and stylish. You could even use storage units such as display cabinets, sideboards or bookcases to fill awkward alcoves and odd corners to round off the look.
Don't overfill the room with furniture if it's already jarring to the eye. Use accessories to highlight the best bits, and embrace a more minimal look on areas that you'd like to conceal.
Best furniture for a small living room
If you're working with a smaller space, it's important tomaximise the room that you have. Make most of the vertical space with taller units such as bookcases, dressers and display cabinets, and opt for slimmer furniture such as console tables if floorspace is an issue.
The best layout for a small living room is one that doesn't include too much furniture, and makes the most of the space available. Think about making use of otherwise neglected corners with side tables or even a corner sofa tucked against both walls.
[Image: https://drive.google.com/file/d/1xvPHk_JlAzRU9JoYTMVdjUTrtuGvHg6h/view?usp=sharing]
Best furniture for a large living room
If you've got a bigger space, you have the world of choice when it comes to your living room furniture layout! Consider transforming it into a multifunctional room. If you'd rather keep it as one space, think about arranging two sofas in your living room - opt for large, multi-seaters for the perfect hosting environment.
Square living room
If you're working with a square shaped room, you have several options with styling! Split it up into two rectangles for different zones, or spread your furniture into its four corners for a true square living room layout. Keep your focal point central, whether a TV or fireplace, and arrange your sofa, chairs and storage units on each of the 4 walls.
You should now be ready to create the perfect layout plan for your living room. Need some new pieces for your newly created arrangement? Head over to living room furniture to shop now.
---
More Inspiration
---
Your #OakFurnitureLand Style