Inspiration Station - Living Room Style
How to choose a TV stand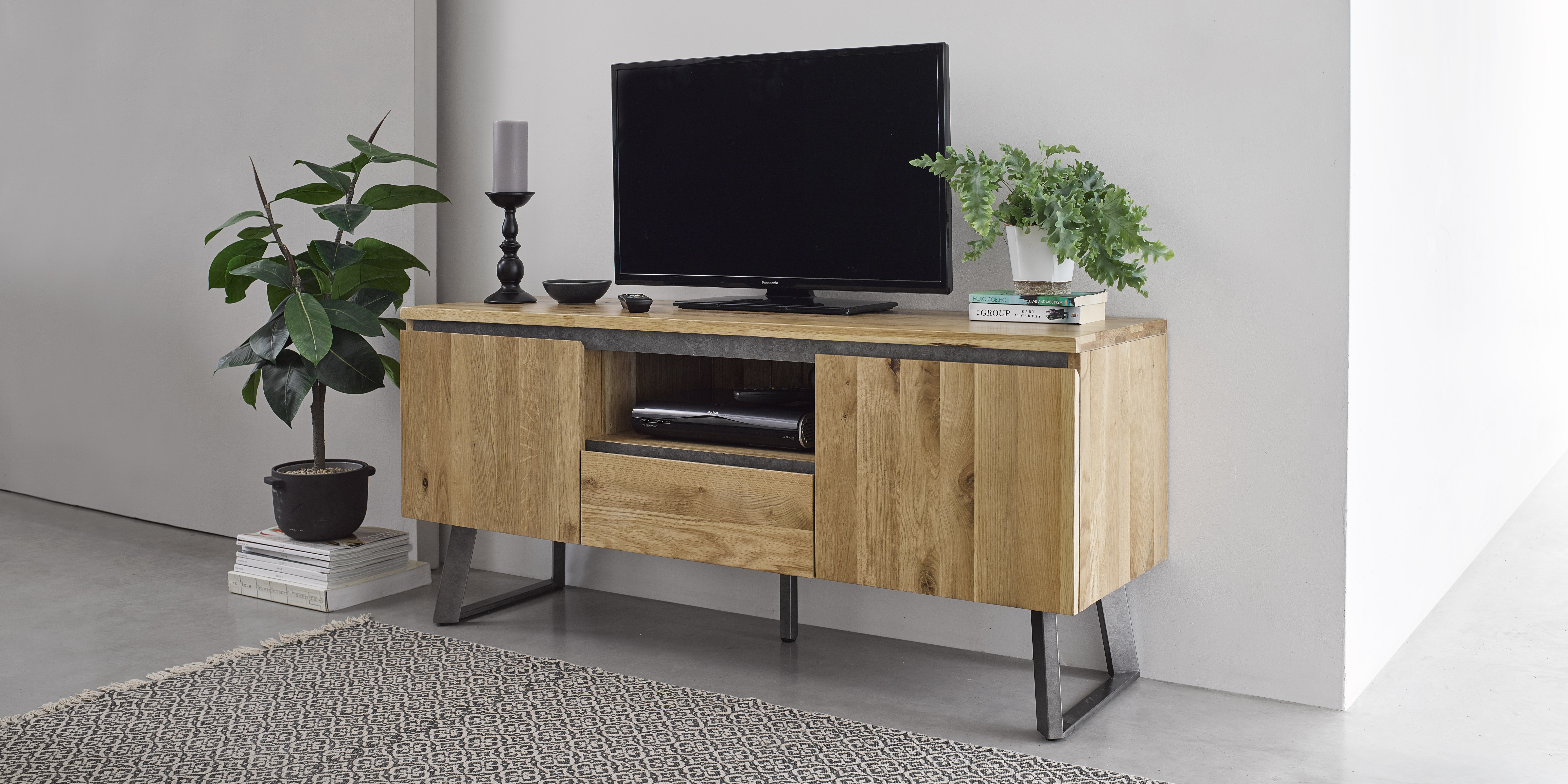 Whether you're binge-watching the latest series, snuggling up for family movie nights or gathering around for the big match on a Sunday afternoon, the TV can be the hub of your household. So you'll want to choose a TV stand that serves as a design asset in your room and prevents the build up of clutter or unsightly cabling - so where can you start? You'll want to consider:
How to determine TV stand size
How to choose a TV stand
Can you use a console table as a TV stand?
Should your coffee table match the TV stand?
Can a TV hang over the stand?
Can you use a coffee table as a TV stand?
What should I look for in a TV stand?
1. How to determine TV stand size
When thinking about what size your TV unit needs to be, there are a number of factors you should consider. It's not just about the space you have (or don't have), but also the size of the TV itself and the height you want it to sit at. It's also recommended that the distance between your TV and sofa area should be about double the size of your screen, so keep this in mind when choosing a TV stand.
How big should your TV stand be?
It's important to note that the size of your TV on its box - e.g. 50 inches - doesn't actually reflect how much space it needs. Dimensions are measured diagonally, so a 50-inch TV is measured from its top left corner to its bottom left corner - and this only accounts for the screen, meaning its frame is not included in these measurements. Therefore, before you go shopping for a TV stand, measure the actual width of your TV and find a stand that will be suitable.
Should your TV stand be wider than your TV?
For purposes of scale and to keep your stand from toppling over, reserve enough floor space to accommodate a TV stand that doesn't allow for any overhang and has a strong enough base to allow your TV to balance. Our experts recommend you should add 20% onto the width of your TV when choosing your TV stand to prevent any of the above. A sturdy, oak TV cabinet will also offer enough weight to support your TV.
What is the best height for a TV stand?
Ideally you want the screen positioned at or just below eye level for comfortable viewing. As stands have different positions available, you can always find the right height for you and your whole family to enjoy TV viewing without straining any eyes or necks.
Luckily for you, our TV stands are designed to beautifully accommodate the rest of our living room furniture.
What size should my TV stand be?
If you're searching for a TV stand size guide, look no further. TV stand dimensions are measured diagonally, so don't forget you'll also have to account for the frame around the TV. TV stand sizes have been recommended by their width.
| TV Size | TV Stand Size Needed |
| --- | --- |
| TV stand size for 32 inch TV | At least 30" wide |
| TV stand size for 42 inch TV | At least 39" wide |
| TV stand size for 48 inch TV | At least 44" wide |
| TV stand size for 55 inch TV | At least 49" wide |
| TV stand size for 60 inch TV | At least 54" wide |
| TV stand size for 65 inch TV | At least 58" wide |
| TV stand size for 70 inch TV | At least 63" wide |
2. How to choose a TV stand
In order to make a choice about what is the right TV stand for you, it's helpful to know what is out there. As well as options for TV stands in oak or with a painted finish, there are also a range of styles available. Embrace the loft-style living look with an industrial TV stand. Neutral tones more your thing? Opt for a white TV stand, or a grey TV unit. With so many classic styled or modern oak TV units available, you're sure to find something to suit your home style. So, what should you look for in a TV stand? These are a few things to consider.
Which room do I want the TV in?
If you're looking for a bedroom TV stand, you'll need to consider the height of your bed. If you have a low-lying bed, any of our TV units will be appropriate in your bedroom. However, a TV stand may not always work in your bedroom because of the height it will sit at. You might be wondering, what else can I use instead of a TV stand? Try the surface of any of our chest of drawers to rest your TV on, giving you the opportunity to watch in bed at a more accessible height. For more inspiration, read on to find out where to put a TV in the bedroom.
Do you need a corner TV stand?
While we offer our regular large and small TV stands for various room sizes, we also realise not all living rooms are conventionally shaped. Therefore, our wooden, oak corner TV units are a great benefit for awkwardly shaped rooms or if you want to keep your TV slightly off-centre and out of immediate sight.
Do you want a TV stand, or other living room TV furniture?
Decide what works best for you. TV units are a great way of keeping your space free of cluttering cables as they come with in-built tidying mechanisms. Yet this might not work for all spaces. Consider console tables, sideboards, or even a chest of drawers if this fits better with your scheme and needs. Just make sure to measure up to ensure it sits at the right height.
FAQs
3. Can you use a console table as a TV stand?
Of course, you can also use a console table as a TV stand. Our console tables with shelves and drawers - such as those from our Canterbury, Hercules and Shay ranges - will be particularly useful for storage functionality. However, a console stand will only be suitable if you require your TV to be at a taller height than one of our TV units allows. Plus, you won't find it quite as easy to hide away wires like you will with our purpose-built TV stands. Using a console table as a TV stand may work best in a dining room, kitchen or bedroom.
4. Should your coffee table match the TV stand?
If you're a lover of matching furniture, select a TV stand from the same range as your coffee table and other living room furnishings. If you can't get an exact match, opt for a similar colour of wood, such as a light oak TV stand with paler furnishings. But you don't have to match it! Mix and match painted and oak furniture, or different colour painted furniture for a more eclectic feel. Simply make sure to tie these pieces in together with an underlying interior theme.
5. Can a TV hang over the stand?
Ideally your TV should be no wider than 3 inches over each side of the TV stand to keep your pieces in proportion. Yet in some cases it may be appropriate for it to overhang slightly more, particularly if your TV stand style is heavier.
6. Can you use a coffee table as a TV stand?
In some cases a coffee table may be too low to act as a TV stand. But depending on the height of your sofa, it might work! Make sure to measure up before buying. You should ensure that your TV height is roughly at eye level to avoid craning your neck to watch the screen. You'll want to make sure that whatever you put your TV on aligns with the height of your armchair, loveseat or sofa.
If you'd like more styling advice and inspiration for your bedroom, take a look at our blog. There are a number of styles and trend pieces available for you to read at your leisure. Otherwise, if you're inspired, you can shop our TV units.
---
Your #OakFurnitureLand Style