Colours that go with a beige sofa
Inspiration Station - Sofa Ideas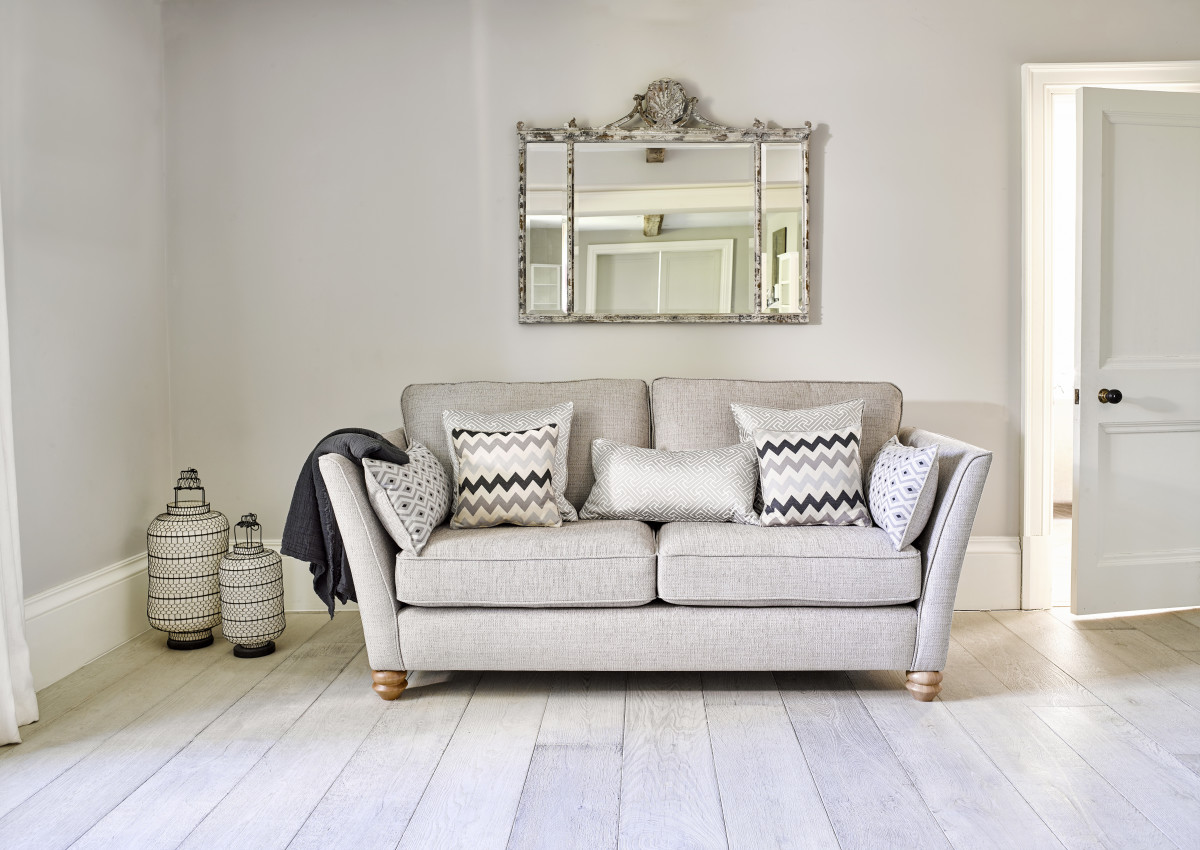 Is beige a good colour for a sofa?
Beige is a versatile, neutral tone that has become increasingly popular in the interior design world. Whilst greys and silvers have long been the most popular choice for neutral furnishings, cool neutrals are on their way out - overtaken by beige and other softer, warmer neutral brown earthy tones.
The beauty of beige is that you don't have to think too hard about what colours to pair with it. Read on to find out how to style a beige sofa in your home.
How do you style a living room with a beige sofa?
A beige sofa can work beautifully in all kinds of living rooms. If you've got a small room to work with, beige can be a great choice because it won't dominate the room or look as though it's taking up too much space.
A warm neutral tone like beige perfectly complements many different furniture style choices, whether you are going for an industrial look, or a rustic farmhouse feel. There are lots of inventive ways you can include beige into a stylish room - why not create a cosy cottage-inspired feel with charming natural oak sideboards? Beige also works wonderfully if you are aiming for a chilled out coastal vibe with rustic oak furniture and nautical accents.
What are the best wall colours to complement a beige sofa?
Does a beige sofa go with grey walls? Yes! Would it also look great with bright colours? Yes! The good news is that beige can work with either of these colour palettes. Using the interior design colour wheel theory could be a good place to start. A complementary colour scheme is one that draws together colours from opposite sides of the wheel. In the case of beige, this would be a deep blue or purple shade. An alternative theory suggests using split complementary colours - which would pair beige with pinks and pale blues.
Of course, all of those colours can work with beige, but if you've chosen a beige sofa you might have a less vibrant colour scheme in mind. Neutral tones are seeing a resurgence in popularity thanks to their calming nature. So if you want to keep a simple, monochromatic theme you can always choose white walls to go with your beige sofa.
You could also pair beige with the colours nearest to it on the colour wheel. This is an incredibly fashionable option; add a note of delicious, olive green for a clean Mediterranean feel, or keep it calming with a grounded earthy brown tone for your walls.
Whatever your beige sofa living room ideas, if you want to strike a balance between calming and exciting, you can always choose a neutral backdrop but add a pop of colour with an accent wall in a single, powerful shade.
What cushions go with a beige sofa?
Just like with walls, almost any colour cushion can be paired with beige. Pick patterned cushions to bring visual interest to a neutral beige sofa. The latest fabric fashions have seen a revival in intricate floral patterned fabrics being used in cushions, curtains and throws - all of which look great with a beige sofa. This is a great way to draw on colour wheel theory by choosing floral patterns which feature the complementary colours of blue or violet, as the perfect cushions to go with a beige sofa.
With a colour base of neutral beige, you can even choose shiny foil-detail pillows in shades of gold or silver, without it looking excessive or garish. The ever-popular shade of rose gold also works particularly well with a beige sofa. It's close to beige on the colour wheel, so it accents the colour without overpowering it. Why not find a gorgeous geometric or art deco print cushion to make your beige sofa really stand out?
What rug goes with a beige sofa?
If you've ever wondered what colour rug goes with a beige sofa, the helpful answer is any! If you've chosen a simple Scandi sofa, think about how you could add some patterns and texture to the room by choosing a monochrome patterned rug, or go for a complementary colour like a fresh ocean blue or rich teal for a vibrant contrast.
If you're going for a more rustic feel you might have chosen something like a comfortable beige Chesterfield style sofa. To complete this look, you could choose a warm, soft sheepskin rug that would sit stylishly alongside your sofa. This simple, monochromatic colour choice is perfect for a rustic farmhouse themed room.
A rug is a great way to draw together all of the different elements of your interior design. For example, if you are green-fingered and love to have plants around your living room, choosing a rug that draws together shades of beige and green can be a wonderful way to draw these two colour palettes together in a way that really unifies the room.
What other accessories will complement a beige sofa?
The true versatility of beige is that it will go with almost any kind of accessories you choose. Beige goes beautifully with solid wood furniture, for a classic design style that will be absolutely timeless.
However, beige doesn't just have to be used to create a classic, traditional style. It looks equally great with industrial silhouettes. Try accessorising with sleek, modern lamps and a large metal framed coffee table. You could style this on a wood floor, or perhaps ponder 'does a beige sofa go with a grey carpet?' and choose silver or grey flooring to add a cool tone to the room.
Are beige sofas boring?
No! Just because your sofa isn't an eye-popping bright colour, it doesn't make it boring. The real beauty of a beige sofa is that you can use it as a neutral base and layer your favourite colours over it.
Keep a totally neutral look by adding different beige hues in your curtains, carpets and cushions - or spice it up with one or two other colours. Even better, incorporate patterns into your decor to add visual interest without creating any conflicting colour matches.
Ready to make beige beautiful? For more sofa inspiration, check out our other sofa styling guides. Otherwise, start browsing beige sofas today!
---
More Inspiration
Your #OakFurnitureland style
Show us how you've styled your Oak Furnitureland pieces and be featured in our online gallery today!
We love to see how our furniture looks in our customers' homes. We put work into designing and producing it, and it's great to see it turning houses into homes. Be inspired, and be the inspiration, too. You can share your picture with us through our gallery uploader below, or by using #OakFurnitureland on Instagram and Twitter.
And at this time, when home is featuring in a lot of our lives so much more, we're starting a special competition. Look out for a photo theme for the month – then share your themed photo in the usual way for the chance to win a prize.
May's theme is inspiration around your home. Send us pictures of your Oak Furnitureland pieces styled in your home before 31st May 2020 and get the chance to win a beautiful small bookcase of your choice.
Follow us on Instagram, Twitter, or Facebook today, and share your #OakFurnitureLand photos!
---
Your #OakFurnitureLand Style