Bedroom storage ideas: How to organise your room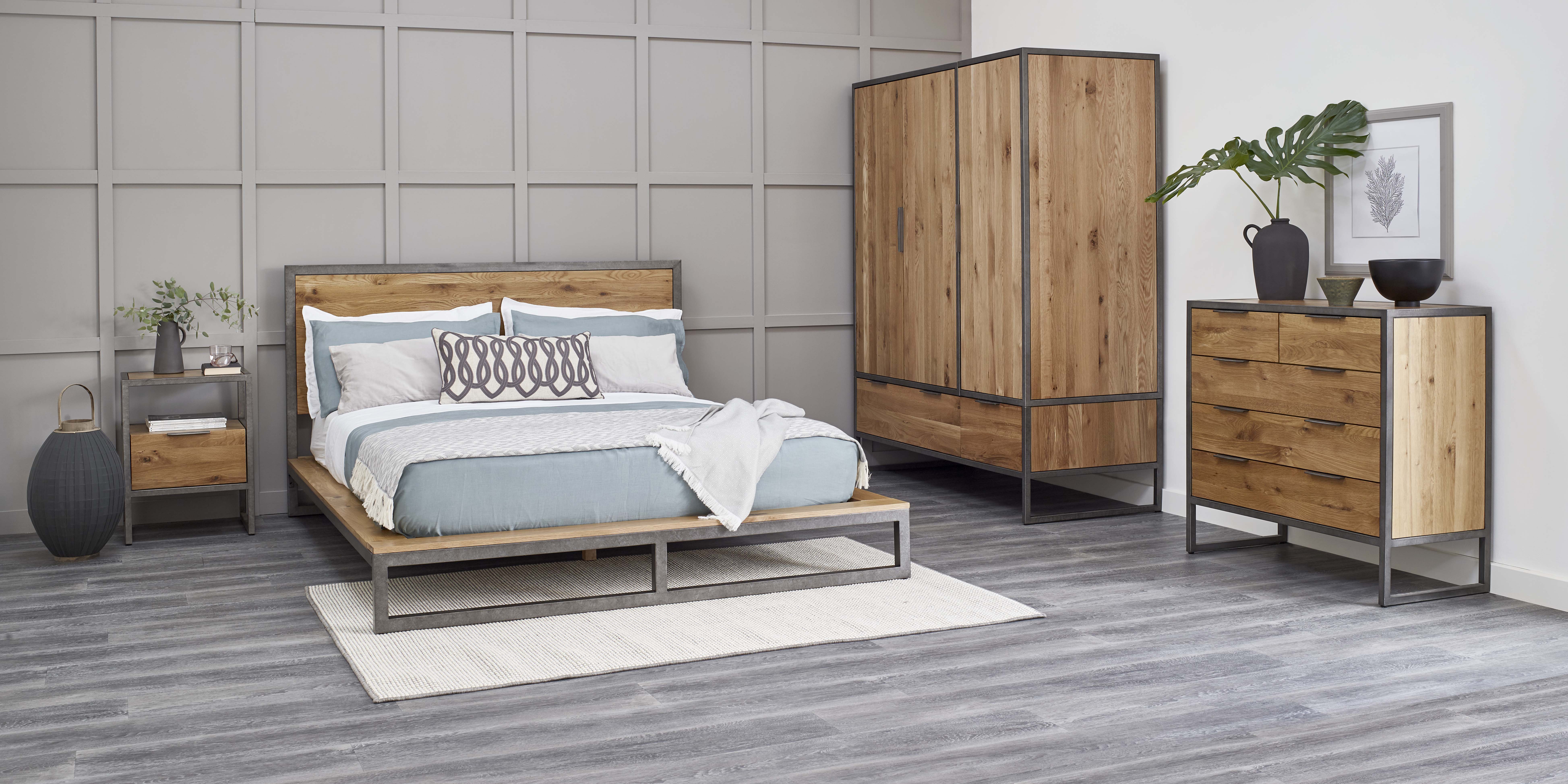 When you're working with a small room, finding ingenious ways to reclaim space is absolutely crucial. Nothing makes an already small room feel even smaller like excess clutter. Here's a collection of clever storage hacks that'll help you maximise the potential of your busy home.
---
1. Use vertical space in small bedrooms
Small spaces require slimline storage to provide you with nifty places to keep your bits and bobs. Something like our Brooklyn tallboy really does the trick here, carrying five deep drawers and working up instead of across in order to free up precious floor space. Your tallboy will be particularly useful for organising small spaces; it's great for storing socks, underwear, swimming costumes – you name it.
2. Get storage boxes for under the bed
Alto king-size bed / Alto double wardrobe / Alto bedside table
When selecting a bed that needs to be clever about how much of the room it needs, consider choosing one with a higher bed frame, such as our Alto king-size bed. This allows for plenty of under bed storage space compared to beds that are lower to the ground.
Boxes can be easily shifted underneath, allowing you easy access to clean bed linens, spare pillows or fresh towels. Canvas totes are also useful because they're more malleable, meaning they're able to collapse together when in storage.
3. Consider floating shelves
Floating shelves and wall-hanging clothes racks are sneaky space savers - make sure to use all available wall space. Clunkier items that aren't in everyday use, such as books, are best for these harder-to-reach places.
Maybe use a stack of your favourite books as a bedside table, prop up a cube shelving unit in different ways to see how you can minimise the floor space it takes up or cover some shelves with sliding mirror doors to create the illusion of space.
4. Opt for a spacious wardrobe
If you need plenty of room to store your or your kids' clothes, you'll want a wardrobe that's built to last, but also isn't too much of a space swallower. Our St Ives double wardrobe is ideal for a no-fuss family as it has ample storage inside its double doors both for shoes and hanging, as well as a hugely spacious bottom drawer.
5. Get a functional chest of drawers
Another key storage piece to consider is a chest of drawers that will not only complement your bedroom furniture design but also provide functionality. Look for a well-proportioned piece that offers around five good-sized drawers without overtaking your bedroom.
6. Keep your bedside tidy with a bedside table
Tidy bedside, tidy mind. Keep yours in order with our contained and compact Brindle bedside table. There's enough surface to adorn with a lovely lamp and an assortment of accessories, while providing you with a surprising amount of drawer space.
7. Use overhead space
Your walls tend to be the most unused space in your bedroom, particularly over the bed; in a smaller bedroom, it's key you make the best use of it. For example, you can line shelves around the circumference of your bedroom, stretching over your headboard and above your door.
This is another great place to store softer items like bed sheets, or summer clothes that you only need once a year.
8. Use the space at the end of your bed
Pop a blanket box at the foot of your bed for extra storage. Sneakily burrow away all your spare bedding and winter blankets inside, at the same time making a lovely place to sit and gaze out of the window for a moment's peace.
9. Get a dressing table
Hove dressing table / Hove dressing table mirror / Hove dressing table stool
Dressing tables not only designate a place for you to get ready for the day, but the handy drawers that are incorporated into our Shay dressing table make the ideal place to keep your make-up, beauty accessories, and various potions and lotions. Inside, keep everything in order with a drawer organiser so your small items don't get lost.
And there you have it, our expert tips on using bedroom furniture to maximise your bedroom storage. Discover more storage solutions for your bedroom here.
---
More Inspiration
---
Your #OakFurnitureLand Style