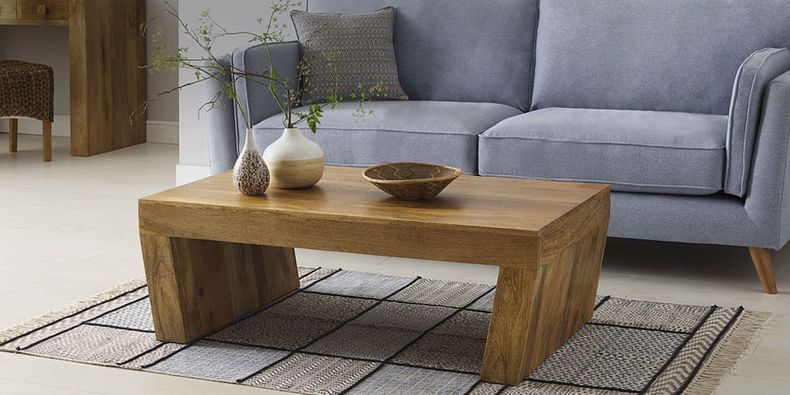 Mantis Light
Simple shapes, smooth tops, striking finish
Mango wood furniture
The Mantis Light Natural Solid Mango furniture range is an exclusive collection of living room, dining room and bedroom furniture.
As with all of our ranges, each piece within this range is designed to match and complement the other pieces within the range. The light, natural mango grain finish is consistent across all of our natural mango furniture ranges. Each item in this highly sought-after range flaunts a tasteful, minimalist design which accentuates the varied grain and hues of the mango wood.
Mango furniture
Mango wood is the wood from a similar cultivar of mango tree as the fruit is harvested from, but rather than harvesting the fruit, the mango trees are grown specifically for their high quality furniture making properties. After all, virtually every tree produces fruit; it's just that we don't eat the samara from the mahogany tree, or acorns from the oak tree.
Mango furniture style tips
Try using a low lying coffee table to create a contemporary vibe in a minimalist room. Our Mantis Light Solid Mango coffee table with angled legs would would suit such an environment and become a worthy star in a room kept clean and simple.
If you are more into cozy, comfortable living spaces, try combining mango furniture with soft worn leather, stripped wood floors and lots of texture in woven baskets and soft throws and cushions. Our Mantis Light console table sets a shabby chic space off wonderfully with a time-honoured appeal that will never go out of style.
A more traditional living room is the perfect spot for our Mantis Light mango bookshelves. Combined with traditional patterns like tartan but with modern colours like lavender, a living space becomes a warm and welcoming place, perfect for sitting down with a cuppa and a good book.
Eco-friendly
Mango wood is an Eco-friendly material which definitely contributes to its popularity: The wood from mango trees are only used for lumber once they reach the end of their fruit bearing years.
Ideal for those looking to achieve a modern yet rustic décor, this collection demonstrates exemplary levels of high quality construction.