Now that you've decluttered your home, if you're looking for a way to spruce up your tidy living space but don't have the time, money or perhaps the patience to rethink the whole decor of a room, adding an accent chair could be the perfect way to change things up.
Accent furniture is a statement piece that stands out from the rest of the room by adding colour, definition or drama to a living space. It's a perfect way to add some personality to your home with new colours, textures or shapes. Plus, accent chairs are versatile enough to be used anywhere such as your lounge, bedroom, office, hallway – or perhaps a quiet nook where you might like to take a seat and have a few minutes of peace.
So, in the hunt to find your perfect accent chair, we've pulled together some things to consider…
How will I use it?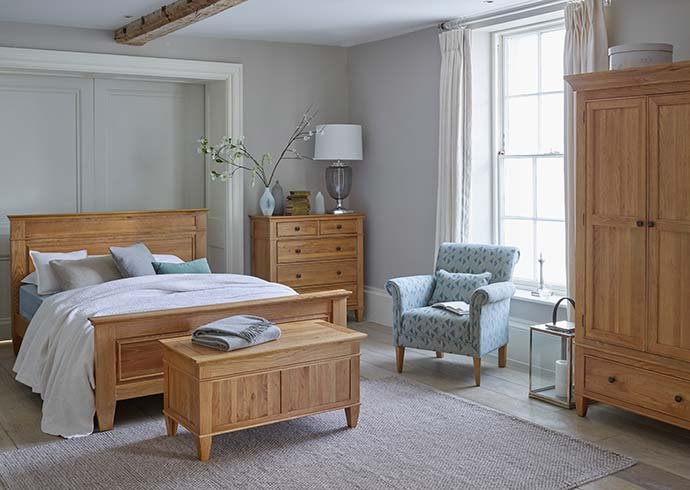 If you're creating a reading nook, then depending on the space, you might want a chair that is a little bigger to relax in. If the chair is to be a focal point in your living room and is likely to be used quite regularly then you could consider something that reclines, or perhaps team it with a matching footstool for a bold style statement.
In the bedroom, a chair can create a cosy ambience but probably needs to be a bit smaller to allow free movement around the room. Likewise for a hallway or any other high traffic areas in your home, a smaller, more compact chair would be most suitable.
You could also use your accent chairs as extra seating for your dining table. The perfect way to cater for additional or unexpected guests, without the need to have spare dining chairs stored away or having to get the wobbly stool out of the cupboard! Ensure that you select firm, sturdy chairs that are the correct height for the table to allow your guests to be able to reach the table comfortably – as a guide, a chair which has a seat 16-18 inches from the floor works best.
What colour armchair should I choose?
Now here comes the most fun part of choosing new furniture.
As you want your accent chair to create a visual interest in a room, it's a good idea to choose something that contrasts with the existing decor – think 'opposites attract'. If you have a room that is full of colour or pattern, then choosing a simple plain piece can add variation and depth.
Instead, if your room is decorated in a more muted style, a striking chair which picks out a colour or tone in the room can bring a pop of colour. Or throw total caution to the wind and choose a colour that is completely different to really make a statement. In a nutshell, when it comes to colour there are no rules, anything goes.
Do I need to consider the fabric?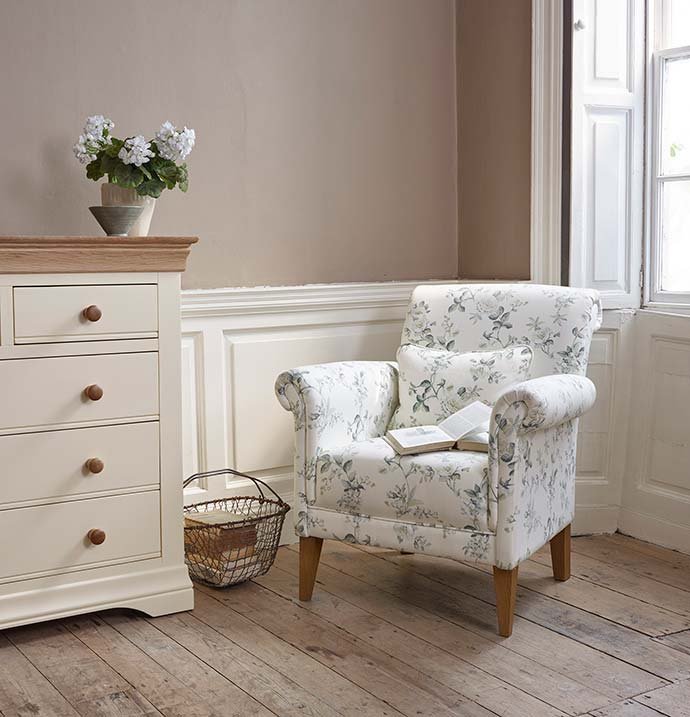 Aside from colour, it's also worth considering the fabric you choose. If the room has a lot of woven fabrics then perhaps a leather chair would offer a bit of variety and offer a durable, hardworking solution for busy rooms. Similarly, if leather isn't your thing then why not go for a plush velvet to add an interesting texture.
How do I pick a style of armchair?
As you have probably guessed, we favour contrasting our accent furniture with the rest of the room, whether that be through colour, fabric or even style. A modern, fresh and minimal room will look fantastic with a traditional wingback chair in a paired back colour and adds an interesting silhouette to the room.
When it comes to choosing accent furniture, then the possibilities really are endless!
We'd love to see how you use accent pieces in your home. Don't forget to share your photos with us on tag us on Instagram or Twitter using #OakFurnitureLand