The living room is one of the hardest working areas in our home. After all, the clue is the name – it's where we 'live' – we relax there, watch TV there, entertain there and so much more. And because it's normally a hub of activity and where we spend so much time, it doesn't only have to work hard for us, we also want it to look great.
We have busy lives and often with so many other things having to take priority for our budget, making cheap and cheerful changes may be all you need to give your living room a fresh new look. So, if your living room is looking like it needs some love, here are eight ways to give it a refresh without breaking the bank.
Shop Your Home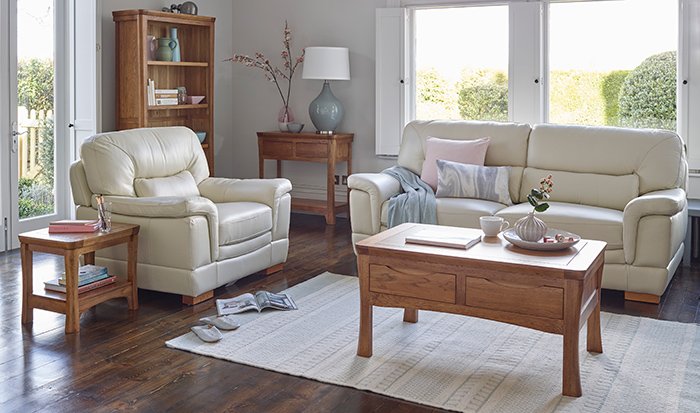 Orrick Coffee Table, Orrick Lamp Table, Orrick Console Table, Orrick Bookcase, Brandon 3 Seater Sofa & Brandon Armchair
Before you spend even a penny on your living room, consider first 'shopping' your own home. Have a look at other rooms and see if the artwork, rugs, cushions, lamps or accessories might work just as well when moved to a different spot in the house – in this case, the living room.
Sometimes all an item needs is a different context for it to feel fresh and new to your eyes again. Be sure to dip into any items you might have in storage in the loft or garage too – you might just find a gem you've forgotten about!
Shop Second-Hand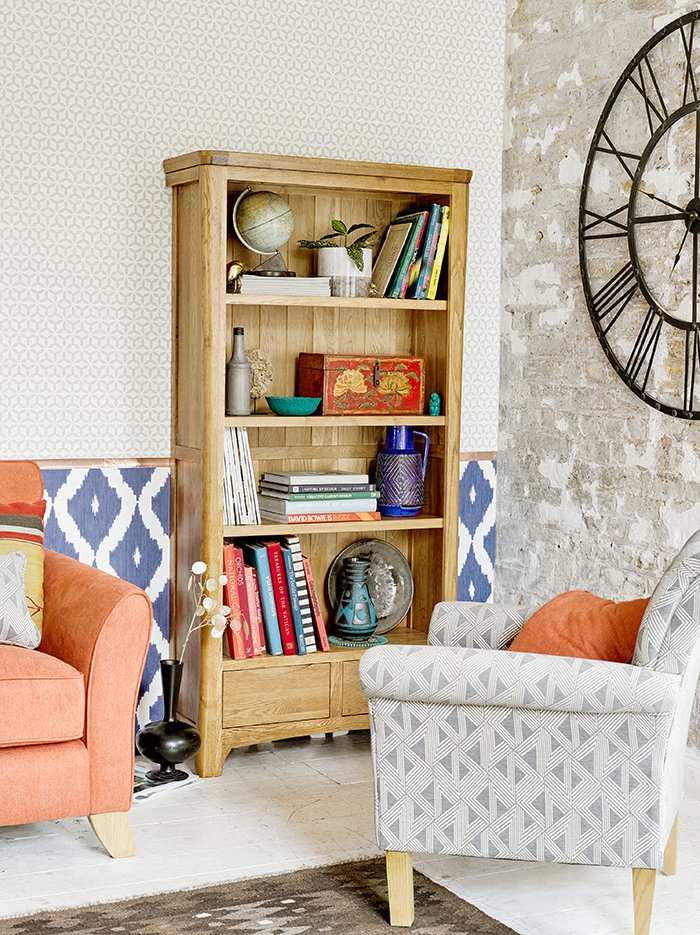 Tosca Wall Clock, Romsey Bookcase, Jasmine Bamboo Accent Chair & Sydney Accent Chair
Not only is it environmentally-friendly (keeping perfectly good pieces out of the landfill) but shopping second-hand can be one of the best ways to save money. Look out for well-made pieces and accessories in charity shops or online auctions and peruse local selling groups for unusual pieces that will create personality in your home.
Add Plants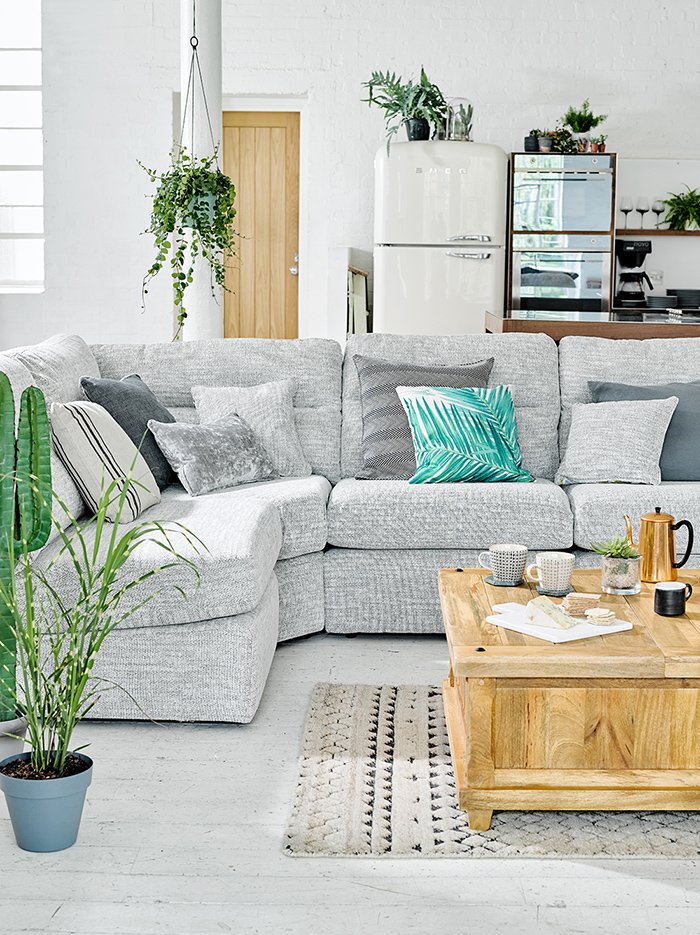 Be sure to give your living room some life with houseplants and greenery. You can pick up small potted plants for just a few pounds at garden centres, DIY stores and even your local supermarket. With care and attention, you can create your own urban jungle for not a lot of money.
Want to save even more money? Ask for a few clippings from green-fingered friends to propagate your own plants and bring the outside in for free.
The Power of Paint
Detroit bedside table / Detroit bed / Detroit Blanket Box
It's amazing what a lick of paint can do for changing the entire mood or energy in your living room. Consider going with a darker shade to create a cosy vibe in the evenings – your artwork, furniture and accessories will stand out even more against a darker colour.
Why not try out a new trendy pastel to create a soft and inviting look or a bold bright to add energy and excitement to your room? For less than £100, you can have a whole new living room look in just a day or two.
Add Colour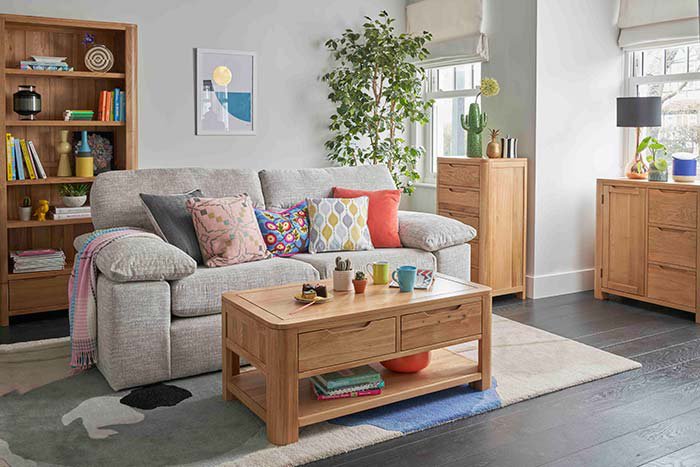 Romsey Coffee Table, Romsey Bookcase, Romsey Sideboard & Romsey Chest of Drawers
Speaking of colour, if you don't wish to repaint your walls, you might want to consider giving your room a bit of life with some colourful accessories. Choose a mix of shades in similar saturations for a fun, eclectic vibe or stick with tonal or analogous colours (those closest to each other on the colour wheel) for a more pulled-together look.
Create Your Own Art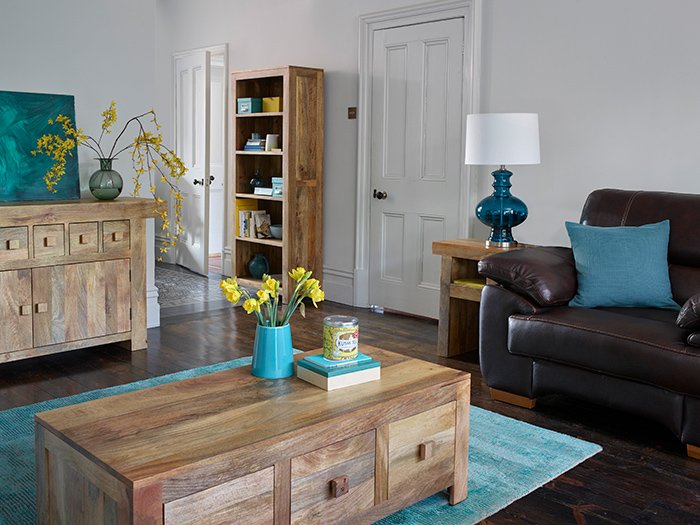 Clayton Leather Sofa, Mantis Light Coffee Table, Mantis Light Sideboard, Mantis Light Lamp Table & Mantis Light Bookcase
If your walls are feeling a little unloved or bare, there's plenty you can do to create some wow-factor on the cheap. Consider hanging a beautiful piece of vintage fabric or textiles picked up on your travels for an eye-catching and unusual wall hanging. If you fancy getting creative, purchase a large blank canvas from a hobby store and using left-over emulsions or tester pots, create your own abstract art.
Decorate with Books and Magazines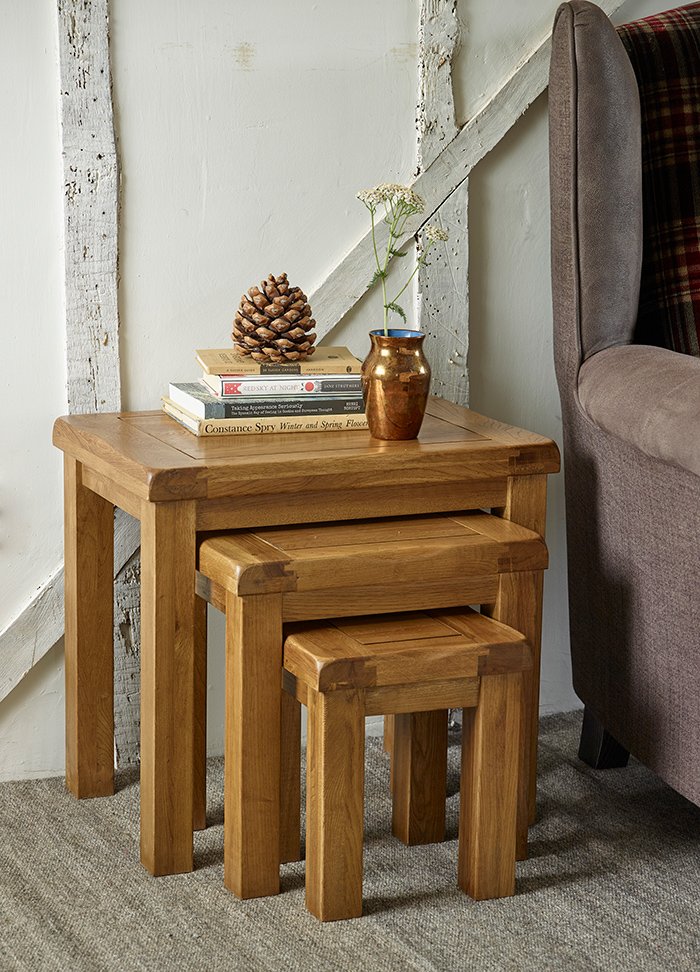 Original Rustic Nest of Tables
And finally, books and magazines add plenty of personality to a room so think about using them in your décor. A small stack of coffee table books will look great on surfaces as part of a display area of smaller pieces; a pile of magazines with a tray on top can make an interesting low 'side table'; or consider storing stacks of books in a (clean) unused fireplace for an eclectic touch.
Looking for more budget-busting ideas to dress your space? Check out our post on the best home improvements you can make for any budget here.