We're just starting to get the first glimpses of spring with ever-so-slightly longer days and brighter skies. Soon, we'll be welcoming in the first buds bursting through the ground. What better way to welcome in a fresh new year than with a beautiful new bedroom scheme?
Asian-inspired décor highlights calm, peach and tranquillity – the perfect combination for a relaxing bedroom. From full-bloom florals to rich energising colours, if you are ready to get zen with Oriental-inspired décor in your home, today's post will show you how to use these elements in a modern bedroom.
Mix and Match Style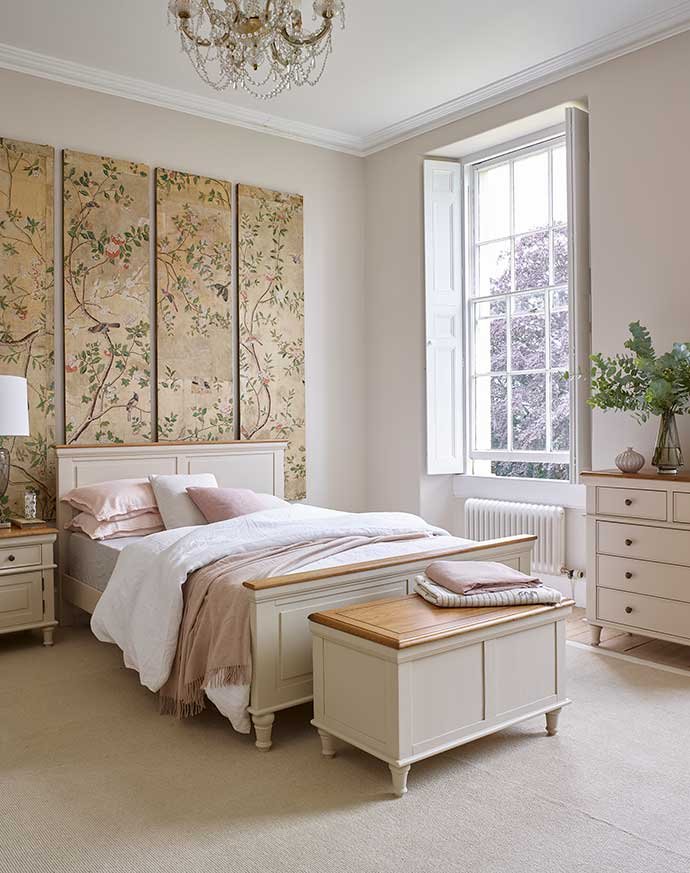 Oriental décor takes its cues from various Asian cultures – from the simplicity and balance of Japanese styles to the more ornate and embellished Chinese offerings and even the explosion of colour and life found in Indian homes. While I would never recommend sticking rigidly to any 'theme', elements from any of these cultures can create a more worldly, curated look. I'd encourage you to dip in and out of what appeals most to you to create a look all your own.
Elements of Nature
Source: Diane Hill
One of the most prominent themes in Asian-inspired décor is nature. You will often see hand-painted cherry blossoms, birds and trailing leaves as a backdrop to a space and this is a wonderful way to create a nod to Oriental style in your space.
Combine it with more traditional or contemporary furniture and keep the colours more neutral, allowing the design to shine.
Balance
Source: Murals Wallpaper
In many Asian cultures, symmetry and balance are keys to creating a calm and tranquil space. Consider using matching bedside tables and lamps on each side of the bed for an understated elegance. Symmetry is easy for our brains to process and creates balance so take advantage of this trick for easy Oriental style.
Floral Motifs
Source: Swoon Worthy
Of course, you don't have to stick with neutrals to create modern Oriental style. Consider a bold oriental-inspired wallpaper in a vivid hue and carry that look throughout your bedroom by using tones in the same colour family. In the bedroom above, a bold turquoise wallpaper is combined with a striking royal blue headboard in a more traditional style.
The eclectic mix of patterns could feel chaotic but sticking with a colour palette of blues throughout provides a sense of calm and makes it much easier to live with. If you wish to use a more saturated palette, consider choosing tonal shades to achieve a similar effect.
Oriental-style Furniture
And finally, consider more contemporary takes on traditional Oriental style furniture. You don't need to fill your room with black lacquer to get the look – natural wood furniture gives a nod to Japanese culture of our Bevel range.
Using natural furniture keeps the look from appearing overly themed for the perfect balance of old and new.
Show us in your oriental inspired bedroom decor using #oakfurnitureland on Instagram!