Whether you are choosing a film to watch tonight or deciding whether Indian or Chinese is the takeaway of choice, relationships are all about compromise. This compromise will probably go far beyond the day-to-day decisions and extend to how you decorate the home you share, including your most intimate haven, the bedroom.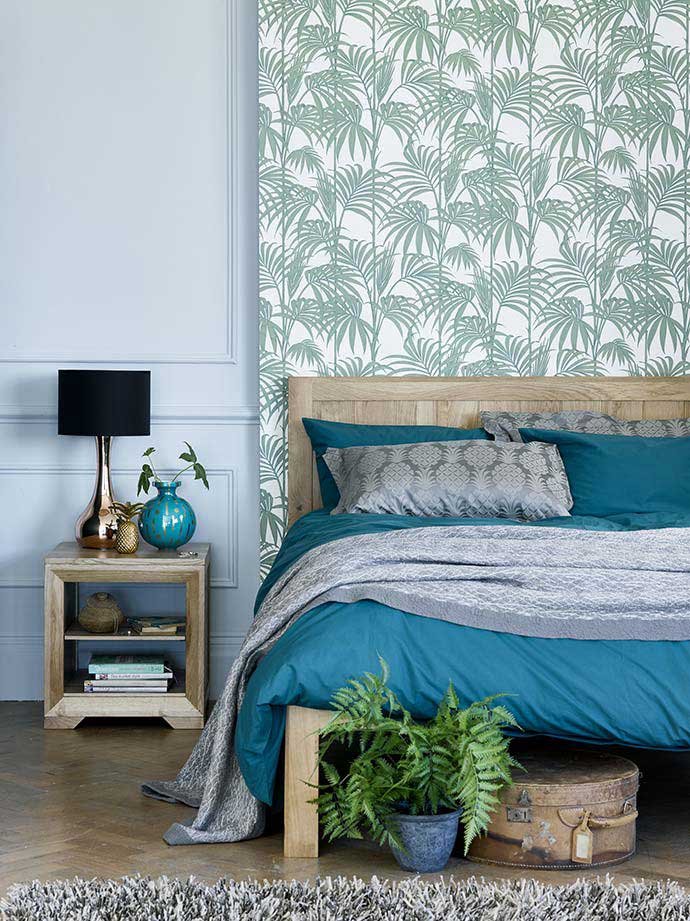 As the place you will both retreat to in the evening or begin each new day, getting the design right so that it's a place you both love is crucial. Our post today will share tips on making sure you are both represented in your design styles and learning how to make those all-important compromises along the way.
So, first things first: Of course, everyone is different and while we'll be referencing some common gender stereotypes in this post, it doesn't mean that the advice won't apply to same-sex couples or heterosexual couples where the man loves ornate floral design and the woman loves straight lines and simple shapes. People are different no matter what and sometimes want completely different things when it comes to their design choices.
Talk about how you want the room to feel
Country Cottage bed/ Country Cottage bedside table
Rather than insist you want 75 metres of floral chintz surrounding the bed, consider instead what feeling you want the room to evoke. Is it romantic? Is it calm? Is it vibrant and creative? Talking about feelings and moods rather than specific design choices may actually allow you to find common ground.
Do the same for colour schemes
Consider colours you both love as a compromise to the design. For instance, my other half detests pink walls but he's okay with me having a few blush cushions on the bed. This way, I get my dose of feminine colour and he doesn't feel overwhelmed that the space doesn't represent his own tastes.
Consider using neutrals for the walls but bring in colours in other ways. Perhaps he loves collecting interesting art pieces or is holding on to some collections from his younger days. Smaller accessories will add personality, colour and an eclectic touch that will make every room unique.
Want more ideas? Check out our Expert Bedroom Styling Tips here.
Be specific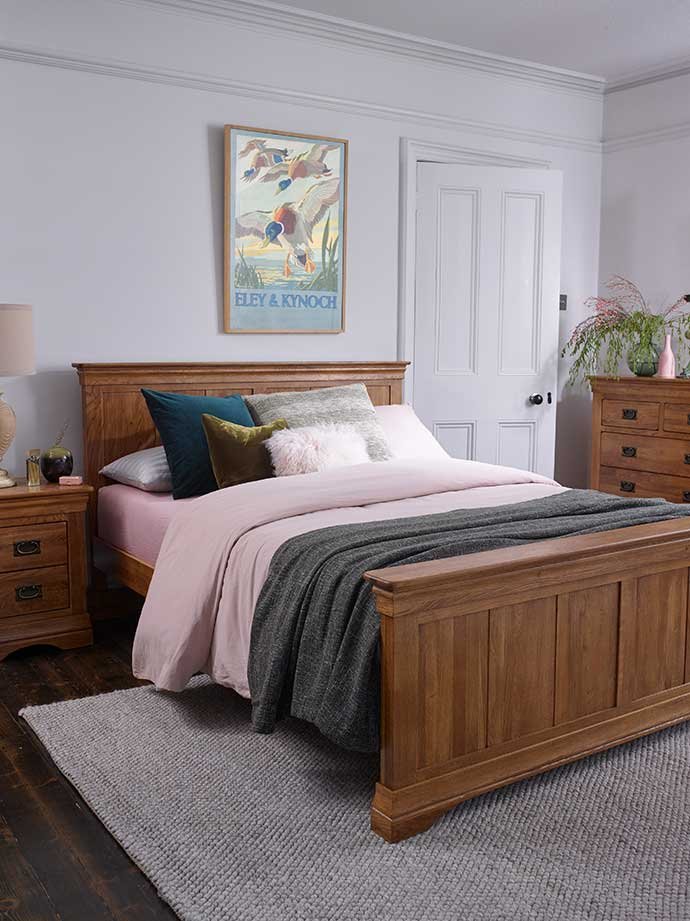 You'll also want to be specific about your choices. If you say you want a tufted headboard and your partner is picturing a crushed velvet number with diamante buttons, you may be speaking two different languages. Go through Pinterest or magazines and show each other examples of rooms where your chosen look is well executed.
Communication is always key when it comes to making decisions together. The better you are at communicating with each other, the less likely there is to be arguments along the way.
Neutral Simple Core Pieces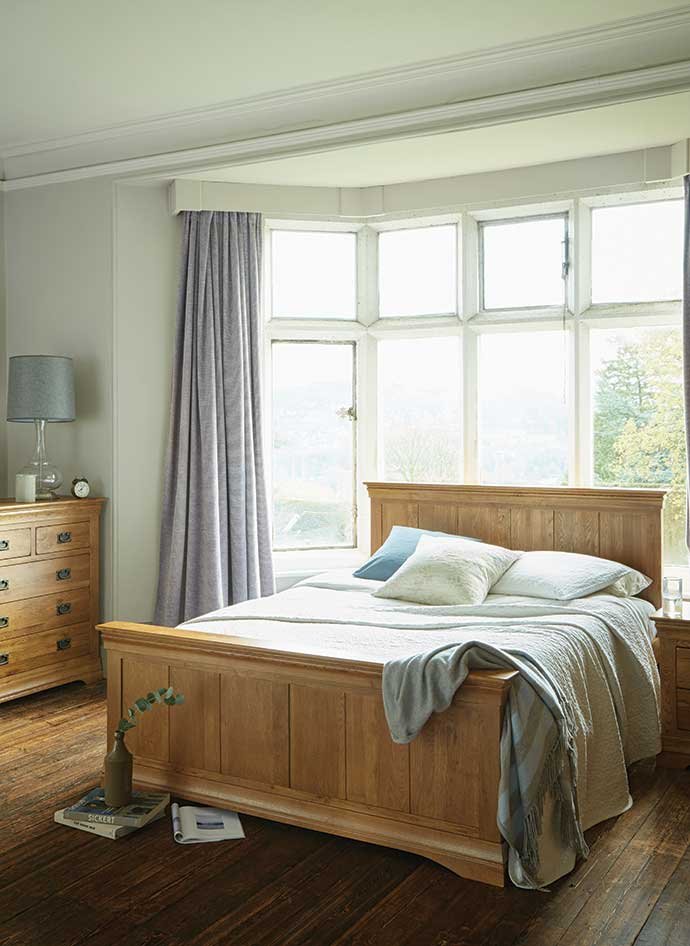 When it comes to compromising on décor decisions, I would always suggest starting off the room with the largest pieces (for instance, the bed or the wardrobes) in neutral colours or finishes. Using items that neither of your objects to creates a foundation upon which to build your design.
It's far easier to add a flamboyant pineapple base lamp to a simple bedside table than it is to add a simple lamp to a flamboyant table. If the base pieces read more masculine in design, adding feminine touches as accents creates a better-balanced space.
Decide Where to Compromise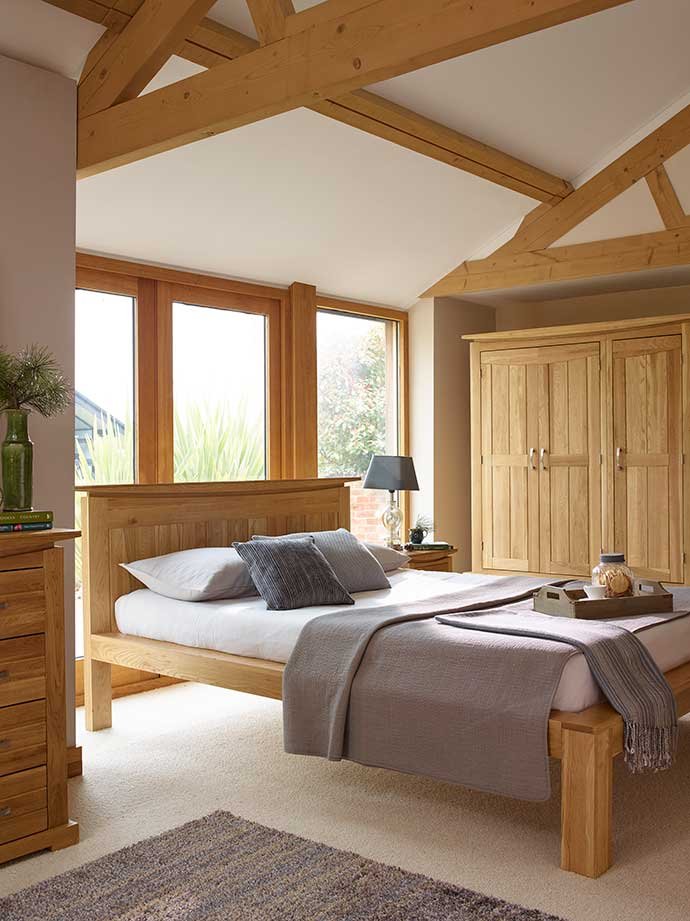 If he's desperate for a TV in a room and you hate the idea of a big black box in the space, then perhaps its time to let go of the control reigns a bit. Allow him to choose his TV but perhaps you get to choose the piece of furniture that it sits upon.
You may detest the old huge battered blanket his mother gave him as a child. While you might not want it as a throw on the bed, can it be turned into a cosy cushion instead? If he is insistent on having a specific piece of furniture in the bedroom, can it be repainted in a trendy new colour or reupholstered in a fabric you both love?
Figure out what's important to you and respect that the other person will want to have a say in the design process. You will both need to make compromises that mean the end result represents both of your choices.
Looking for further reading? Check out our post on Restful Bedroom Inspiration here.
Choose Your Battles
There will be times, of course, where you just can't come to an agreement. Consider the ways in which he may have allowed you to have your way in the past (or vice versa) and decide whether it's really a battle worth fighting for. For instance, my other half absolutely hated the delicate vintage brass and glass table that I adored and after months of hearing his displeasure at my choice, we decided to choose a new table together that we both loved.
Sometimes you just have to pick your battles and realise your partners' unhappiness isn't worth you getting your own way. After all, you both have to live in the space so it's much better to have a harmonious room that you both feel represented in rather than winning an argument with resentment on either side.
How will you and your other half decorate your bedroom? Let us know over on Facebook or show us using #oakfurnitureland on Instagram.