As the room that is seen so little by guests, it's easy to let the standard of tidiness go in the bedroom. The problem is, even just looking at a messy or cluttered room can drain your energy and land you a restless night's sleep.
No matter the size of your space, tackling those overflowing drawers and floors in disarray will make your space feel bigger and calmer. If you're not sure where to start, take a look at our seven simple steps to a decluttered room.
Step 1: Make the Bed
Your bed is often the focal point of the room, so start there. When you enter your bedroom, there's nothing more satisfying than seeing a clean, crease-free bed and perfectly plumped pillows. If your eyes are immediately drawn to a neat and tidy space, you'll be far more encouraged to keep the rest of the room free from clutter.
Step 2: Under the Bed
Now that the top of your bed looks picture perfect, it's finally time to tackle below! We're all guilty of doing a "quick tidy" by hiding miscellaneous items that don't quite have a home underneath the bed… Start by retrieving all items stored under the bed. Throw away forgotten items and use underbed storage to organise the things you actually need to keep – like seasonal duvets or spare linen. Use baskets, boxes or drawers to help keep the underneath space organised and easier to access needed items.
If you're looking for a new bed, why not take a look at our versatile ranges. They're stylish and have plenty of room for under bed storage.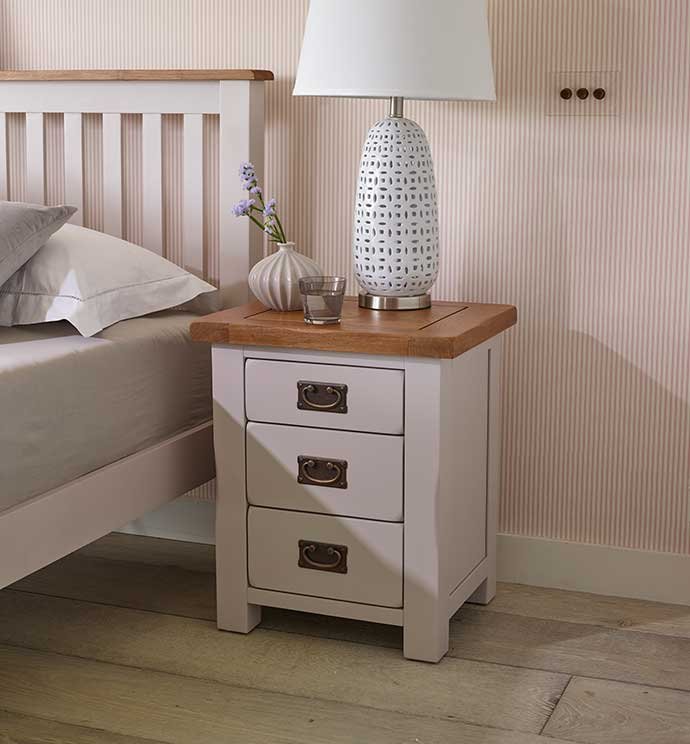 Step 3: Bedside Tables with Drawers
Your phone, books, jewellery you've forgotten to take off… it's so easy to place those last-minute items on your bedside table and leave them there to gather. Keep your bedside table as tidy as possible with a box or tray for your essentials, and use drawer dividers to prevent bits and bobs piling up on top of each other. For more inspiration on how to create a stylish and functional bedside table, take a look at our top 5 tips.
Step 4: Drawers
Your drawers can be another area which become a quick solution to hiding items out of sight. If they're not regularly decluttered, you'll eventually struggle to shut them as they begin to brim with unloved and unworn pieces.  If you want to get rid of your clutter or clothing, ask yourself these questions first:
Have I used this in the last year? Alternatively, do I have a realistic plan to use this?




– If the answer is no, it's time to get rid!

Am I holding onto this for sentimental value?




– If it makes you happy or reminds you of moments that you want to treasure forever, then keep them close. But try to limit the number you of items you keep.

If I were shopping right now, would I buy this?




– If you wouldn't buy this item now, why would you want to keep it?

Based on these questions, decide what items to get rid of and either donate, sell or recycle.
Once you're left with the items you want to keep, get some drawer dividers so you can start organising what you wear. There'll be no need to fumble through layers of material just to find your favourite top when you can see everything as soon as you pull open the drawer. 
Step 5: Dressing Table
Your dressing table is getting the declutter treatment as well. When was the last time you really wore those earrings you got for Christmas… 3 years ago? Or that near-empty perfume bottle you're using as "home decor"? Don't be tempted to tidy these things away just to remain unused –  throw them out or take them to the charity shop instead. If you're really struggling to part from these pieces, use trays, bowls or glasses to organise and store those hair accessories or make up brushes. For more inspiration, take a look at our how-to on creating the perfect dressing table space. 
Step 6: The Right Washing Basket
All your clothes that are strewn across the floor or piled up on your chair can have the ideal home with the right washing basket. Choose one that matches the colour scheme of your bedroom, or complements the accessories on your wall. Having one that fits right into place in your bedroom will make it seem like stylish storage rather than something else to tick off your to-do list.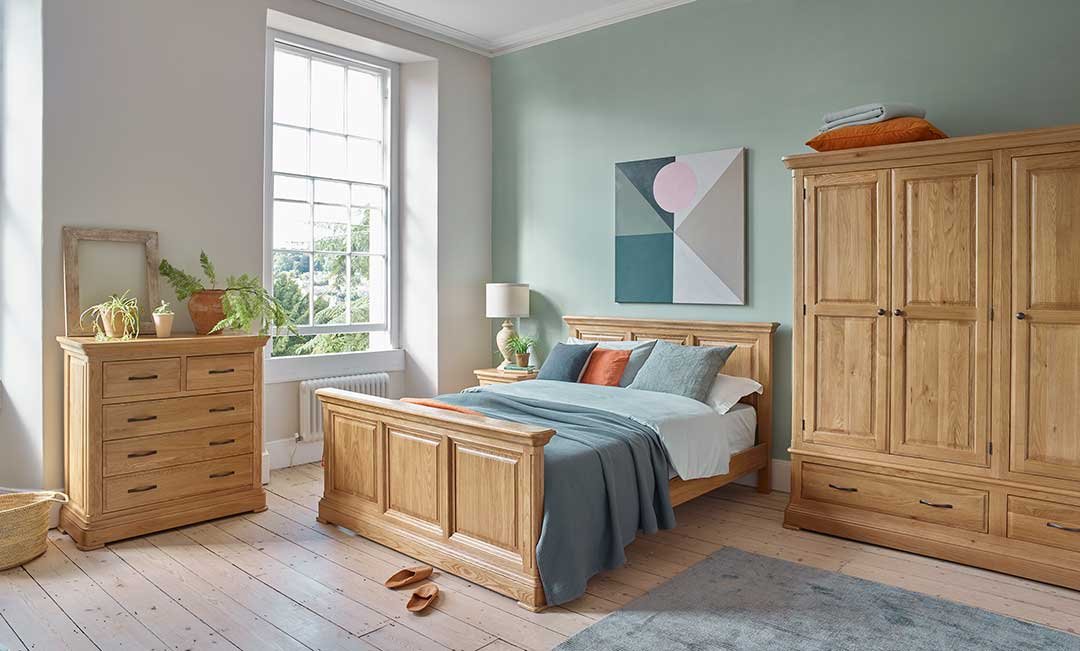 Step 7: Keep decluttering & remember to clean
The more often you declutter, the less time it will take to tidy – plus, it is much easier to maintain. Choose a day that works for you but if you get into the routine of decluttering on the same day each week, it's much more likely to become a habit and actually happen.
Finally, keep the room clean. A weekly hoover, a wipe of the windows and surfaces, and letting some fresh air in is essential in maintaining the tidy state that you put all this effort into making. Even something as small as dust gathering on ornaments or hair on the floor can make your room seem messy and uninviting.
Follow these tips and you'll have a foolproof way of organising and cleaning your cluttered bedroom! Send us photos of your bedroom transformation over on our Twitter, Facebook or Instagram.