With the cooler weather set to arrive, you may be considering how to create a warm and cosy look to carry you through the coming months. One of the best ways to have a room read as "warm and cosy" is through layers of textiles and colours inspired by our natural surroundings. Neutral hues are not just beautiful, they rarely go out of fashion so incorporating these colours into your design is a great way to ensure you won't quickly tire of it as the trends inevitably change.
Neutral colours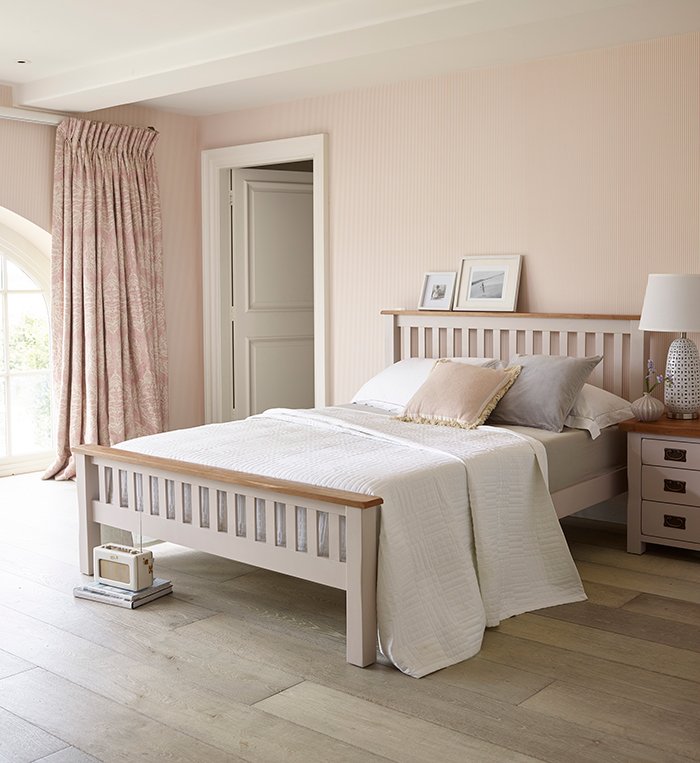 Kemble Bed & Kemble Bedside Table
Of course, when we think about what neutral colours there are to choose from, our minds may immediately go to those construed as being in the "brown" family – from taupe to chocolate to beige and everything in between.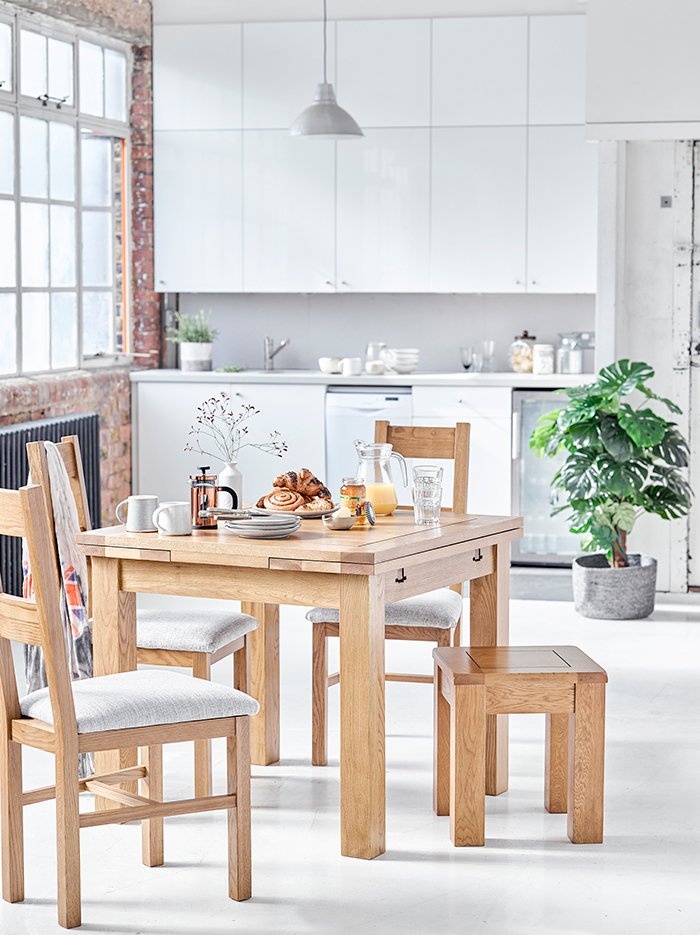 Dorset Dining Table, Farmhouse Rustic Dining Chairs & Original Rustic Square Stool
However, varying shades of white and ivory – linen to cream, pearl and brilliant white – all come into the neutral family as does shades of black – from the deepest slate to soft charcoal as well as dusty blues and green greys. The colour grey, in fact, has over 500 different shades that can be seen by the human eye.
That's a lot of colour to choose from! So, when we consider that wide array, why not use a few to create the perfect cosy retreat from the cold weather?
Textures in a neutral room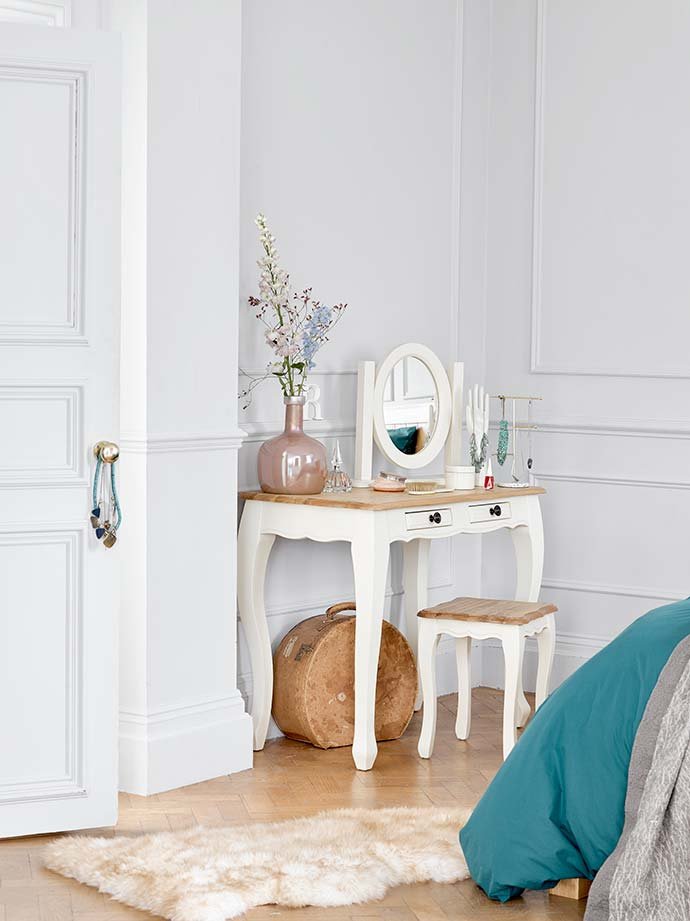 Bella Dressing Table & Bella Stool
Autumn and winter are the perfect seasons to bring in soft touchable textures to play against harder surfaces in your home. Use those contrasts to create an interesting look by pairing a shaggy deep pile rug with a soft worn leather sling chair or choose a velvet footstool to play against natural wood furniture. These textures will play against one another creating interest and layers without having to introduce a rainbow of colour.
Introducing contrast in a neutral room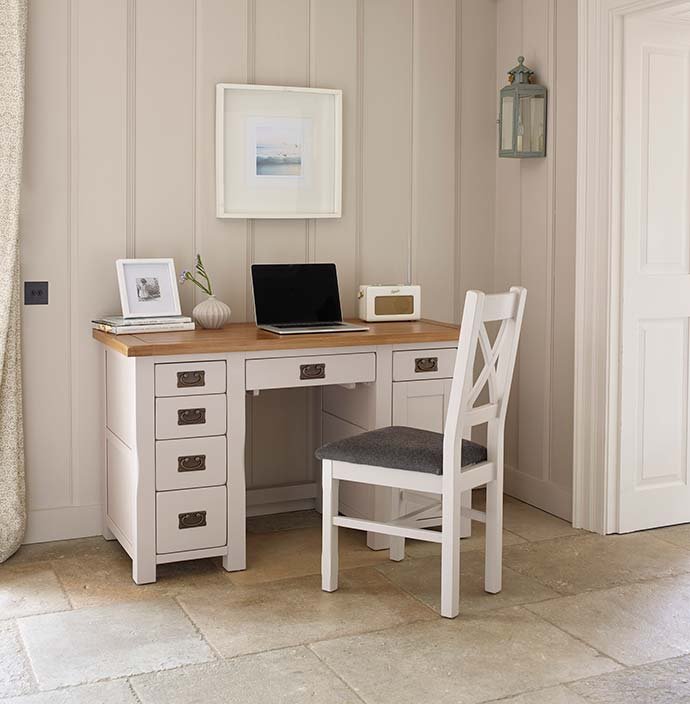 Kemble Computer Desk & Kemble Dining Chair
When using neutral shades, be sure to mix up the range and saturation that you are using. While the colours may be more muted, you'll still want that variation of light and dark to contrast each other. Use less variation for a calming effect or use both light and dark shades for a bit more energy. The greater the contrast in your saturation, the more energy will be created in a space so you'll want to think about what feeling you'd like in your room and let that be your guide.
Considering pattern in a neutral room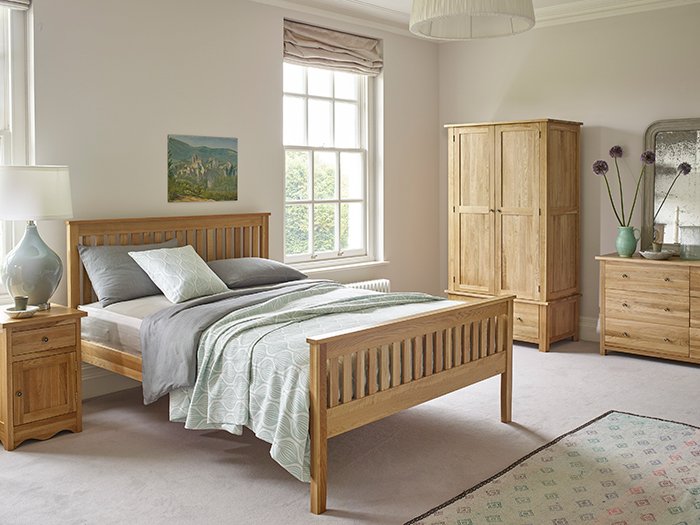 Cairo Bed, Cairo Bedside Table & Cairo Chest of Drawers
With neutral colours, layering pattern becomes a little easier as you won't have strong bold shades that distract the eye and you can have a bit more fun with choosing patterns to use. Try to keep in mind when mixing patterns to stick with one large-scale pattern, one medium scale and one small scale pattern along with some solid colours to pull everything together. This mix of sizes will keep the look calm and comfortable.
Bring the outdoors in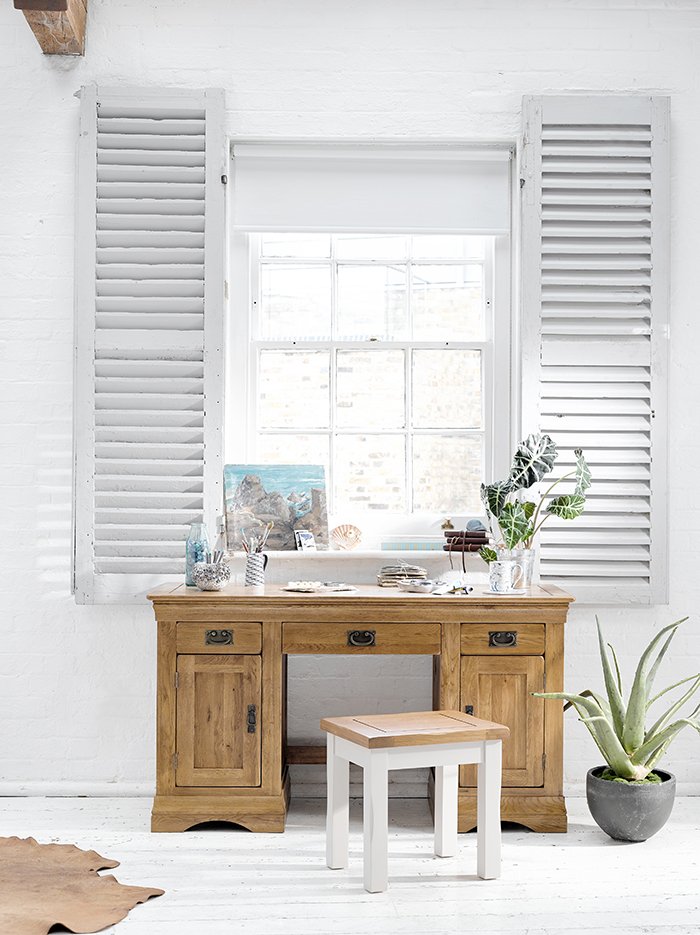 Original Rustic Computer Desk & Kemble Stool
Finally, houseplants will add both organic shape and a dash of natural colour to your room design. Whether you want to use a large potted tree or tiny succulents dotted along a windowsill, plants add their own unique flair to a home whilst also purifying the air and adding another layer to cosy style. Choose natural terracotta or ceramic planters alongside woven baskets for textural warmth or consider macramé hanging planters for a boho chic vibe.
Looking for more ideas on decorating with neutral colours? Check out our blog post sharing warm neutral living room ideas or our ideas for a gorgeous neutral nursery.