With the first month of the new year coming to a close, it already looks like 2018 is going to be a busy year. Here at Oak Furniture Land, we've been hard at work making new ranges, choosing new colours and fabrics for our furniture, and even prepping for a few exciting shows and events coming up soon!
But among all this busy-ness, it's so important to remember to take the time to relax. Which is why exactly we've pulled together this list of our top new sofa introductions!
In order to help you take a time out from your own busy schedule, we've created a range of styles to be the perfect place for you to lie back and chill in style. So sit back, relax and check out some of our sofa favourites for 2018:
Lovely Lanesborough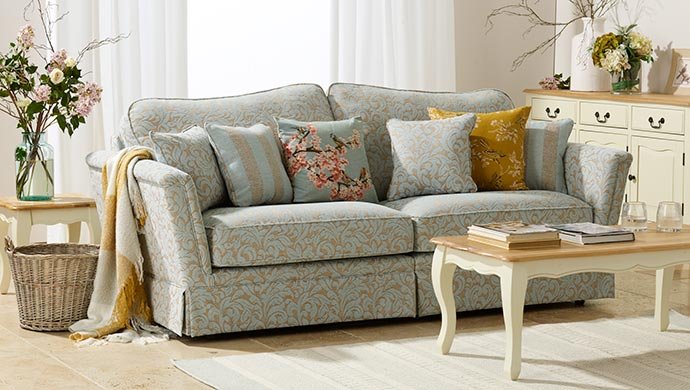 This delicate classic sofa was made with lounging in mind. The cosy cushions feature layers of our high-quality comfort foam, which not only provide the most comfortable place to relax but also help the sofa to keep its shape. The arms arc outwards to create a sleek silhouette and maximise the seating area. We've chosen two soft upholstery options so you can find the perfect look for your home. Marled plain chase of cream, duck egg, and cinnamon create a perfect neutral backdrop while coordinating delicate florals pick up on the emerging greenery trend.
Modern Leather Luxury with Cannes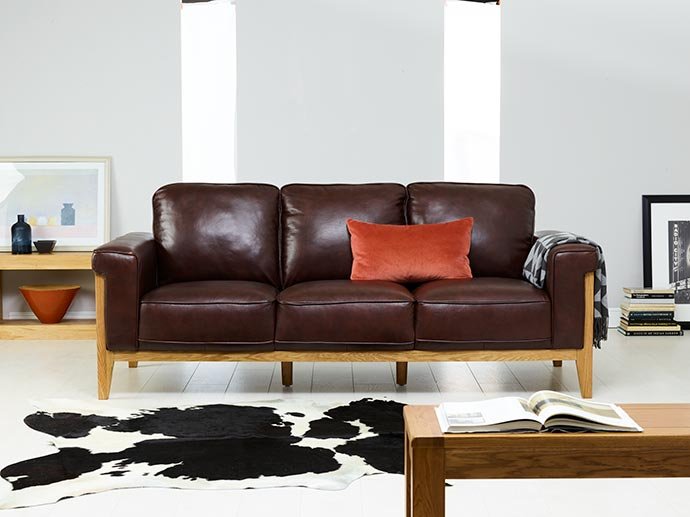 Our Cannes range of leather sofas is a striking nod to mid-century design, infused with luxurious modern comforts. It's designed with an exposed rustic oak frame – which perfectly coordinates with some of our popular cabinet collections like French Farmhouse or Original Rustic – and deep 100% real leather seats. The seats are extra comfortable too, thanks to supportive springs in the upholstery which add a supportive feel and help the leather to keep its shape. Cannes is great for fitting into classic homes or add bright poppy accessories, such as jewel-toned accent pillows, for a modern bohemian twist.
Kirby gets a refresh!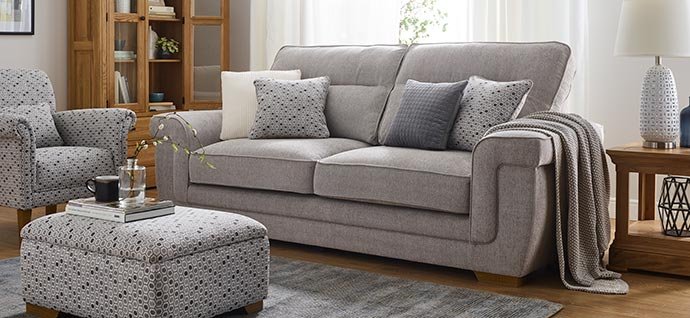 We've updated our popular cuddly Kirby range with a brand new fabric. Playing on the geometric home decor trend, our new Frisco fabrics feature a hexagonal pattern that adds a playful touch to any space. We particularly love the accent chair, which would work perfectly to jazz up a neutral Scandi scheme, or to catch the eye in a bold and colourful room.
The New Vintage with Marco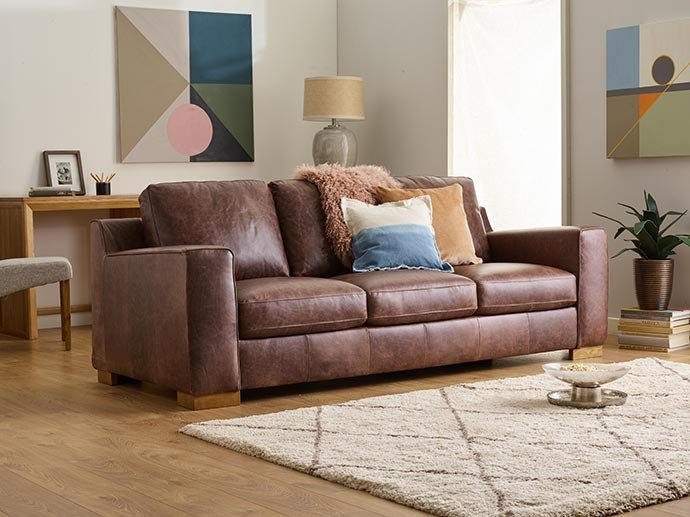 Embrace easy styling with our Marco leather range. The beautiful vintage leather upholstery is unique amongst our ranges, boasting a soft "pull up" texture which adds a comfortable feel to each piece. Marco has a low, boxy shape. The wide, square arms, deep seats, and squat solid oak feet help to ground the piece, and the cosy sprung seats mean it's guaranteed to be a favourite lounging location for your family in no time at all!
Have you got a new sofa from Oak Furniture Land? Share your photos with us on Instagram, Facebook, or Twitter using #MyOFLSofa for the chance to be featured online today!