You don't need us to tell you about the importance of a good night's rest. Better sleep leads to improved memory, a boosted immune system, lower stress levels, and it even helps to prevent weight gain.
But you spend over a third of your life in bed, and a good mattress can be the difference between that perfect 8-hour snooze, and a long fuzzy-headed morning after. If you don't know how to tell if your mattress is up-to-snuff, check out these four telltale signs that your bed has seen better days… plus some tips on how to fix it!
Mid-afternoon slump
Do you find yourself reaching for a brew whenever 2:30pm comes around? Your mattress might be to blame! One of the main reasons for afternoon tiredness is an incomplete sleep cycle the night before, but fuelling the slump with caffeine is only creating a vicious cycle.
Instead of reaching for another cup of coffee, try a little bit of exercise to power through the afternoon; a brisk walk, or even a hot water and lemon if you're looking for that warming feeling. And to make sure your mattress is doing its job, consider the amount of support you need. A child, for example, doesn't need as much support as a rugby player, a teen doesn't need the same firmness as a couple. With our mattresses, the number of pocket springs in a mattress is a great way to figure out the support levels – so the more springs, the more support. So check that your mattress has the right support for your sleep habits, and kiss that afternoon slump goodbye!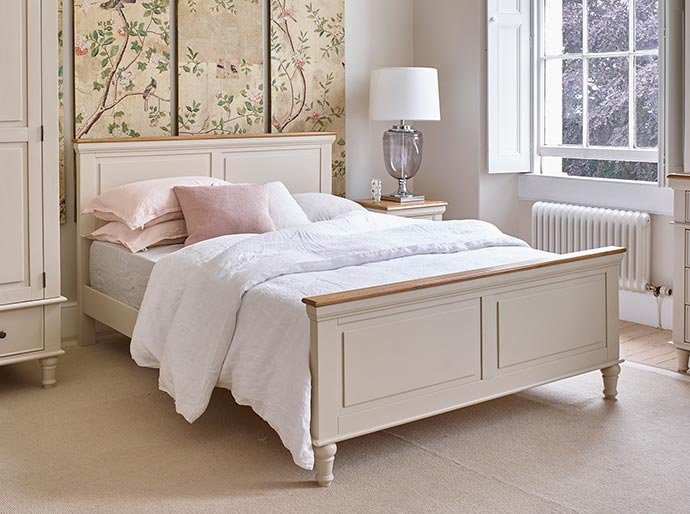 Shay Bed / Shay Chest of Drawers / Shay Bedside Table / Shay Double Wardrobe / Stockholm Lamp
Aches and pains
If you wake up feeling more like you did a few bowing rounds with Frank Bruno than you did getting rested, it could be your bed to blame. Worn out mattresses are a leading cause of musculoskeletal (MSK) problems, such as a sore neck, back, or shoulders. Did you know that nearly a quarter (23%) of all working days lost are due to MSK issues?
Investing in a high-quality mattress can help to solve these issues. Those with joint and muscle issues need additional support to keep their back in proper alignment and alleviate morning stiffness. Our orthopaedic mattresses are designed to help bring you a more natural, uninterrupted sleep, and those with higher pocket spring counts, such as the Marlborough 6000 range provide excellent edge-to-edge support, no matter how you sleep.
Mantis Bed / Mantis Bedside Table
Temperature problems
If hot flashes keep you up at night, don't blame your partner, or the central heating. Your old mattress might be causing these sleepless nights. Inferior foam or mattresses with poor air circulation across the surface can actually raise the temperature of your bed, which affects sleep patterns. The ideal temperature to fall asleep at is 16-18 degrees, which triggers your natural circadian rhythms.
We've specially developed several temperature-regulating features for our mattresses to ensure your best sleep yet. Memory foam is a renowned mattress material thanks to its extreme comfort, but when used in isolation it creates a too-warm surface for most sleepers. We incorporate it in comfort layers, surrounded by special ventilating foam to wick heat away, proving the versatility of foam.
And the attention to detail isn't spared with our pocket sprung mattresses! We tailor the texture and cushioning of the upholstery and fabric to perfectly suit the support and comfort of each of our ranges. Special fabrics such as double stretch knit jersey help with contouring, and we also use high-loft and quilted fabrics to help with air ventilation. You'll be snoozing in cool comfort in no time!
Original Rustic Bed / Original Rustic Chest of Drawers / Original Rustic Bedside Table
Awoken by a tossing and turning partner
Anyone who shares a bed can relate to that feeling of being disturbed by their partners movements in the night. But if it seems to be getting worse than ever, it might be that your mattress has seen better days.
By far and away, our most popular style of mattresses are our pocket sprung ranges. Made up of hundreds (and often thousands) of springs in individual fabric pockets, surrounded by a high-quality foam casing, they offer unique and personalised support for your body. The fabric ensures that the springs don't touch each other to minimise noise, and because each spring is wrapped individually, each coil works on its own to mould to the shape and weight of your body – and your partners too! So when they move, the springs that support you don't, helping you sleep deeper.
However, this excellent independent support also means that our pocket sprung mattresses don't sag in the middle, so if you're looking for an excuse to snuggle up to your partner in the middle of the night, you can't blame the mattress anymore.
And remember, sleep is a personal experience! Everyone sleeps differently, so when it comes to choosing a new mattress, put yourself first. Our Mattress Guide has some great advice if you don't know where to begin.
Don't forget to visit us on Facebook, Instagram, or Twitter to see our latest bedroom design inspiration, or send through your own Oak Furniture Land bedroom photos to #OakFurnitureLand for the chance to get featured.